Your account profile contains your login credentials, as well as various account settings and notification preferences. If you ever need to update or delete your profile, start by navigating to your account menu and clicking "Settings".

Topics
Change password while signed in
Change password while signed in
Enter your current password.

Enter and repeat your new password.

Click "Save".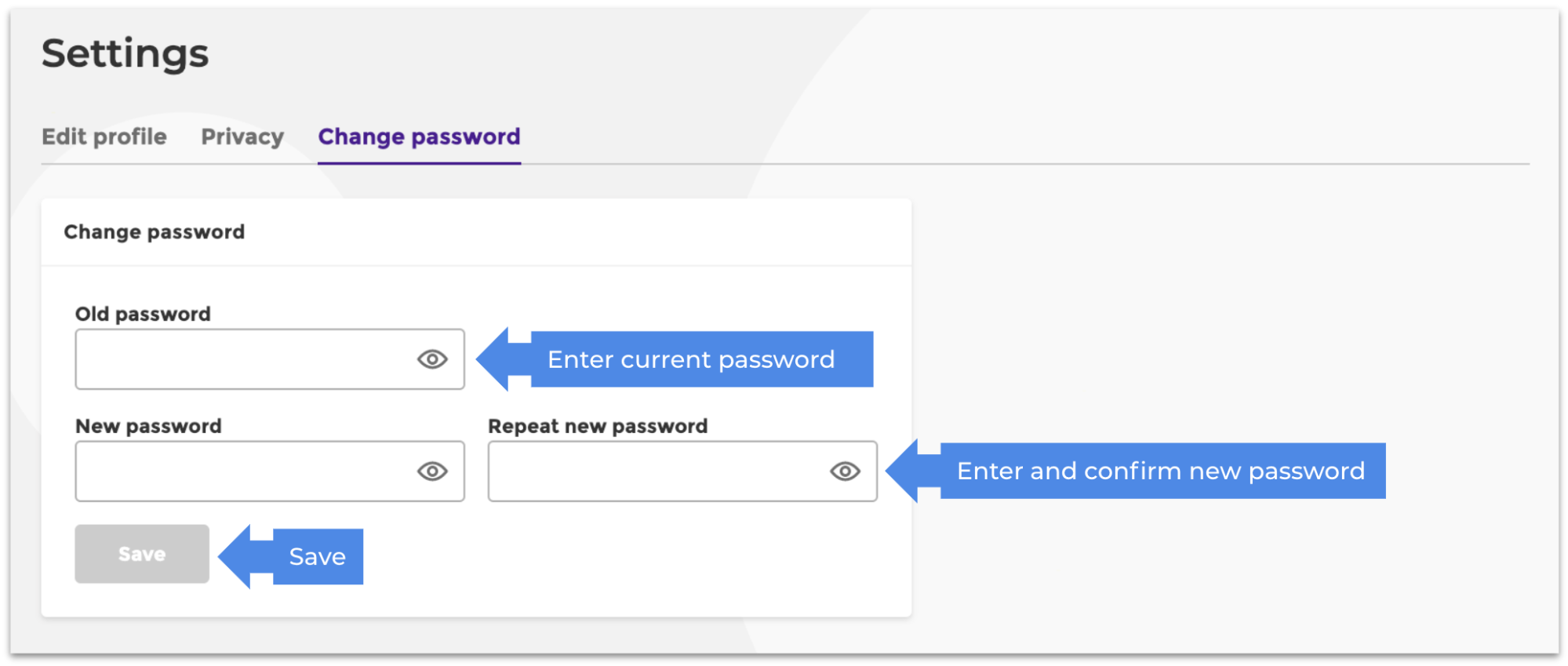 Can't sign in
Below are some common reasons for sign-in issues:
Forgot your password
To reset your password, do the following:
Enter your email and click "Email me".

Look in your email inbox for a new message from "

noreply@getkahoot.com

".

Use the one-time-use link in that message to set a new password within 24 hours.
SSO (single sign-on) not working
When creating a new account, it's possible to sign up with Google, Microsoft, or Apple. If this was done on your account, then you'll need to use the SSO (single sign-on) method chosen at account creation.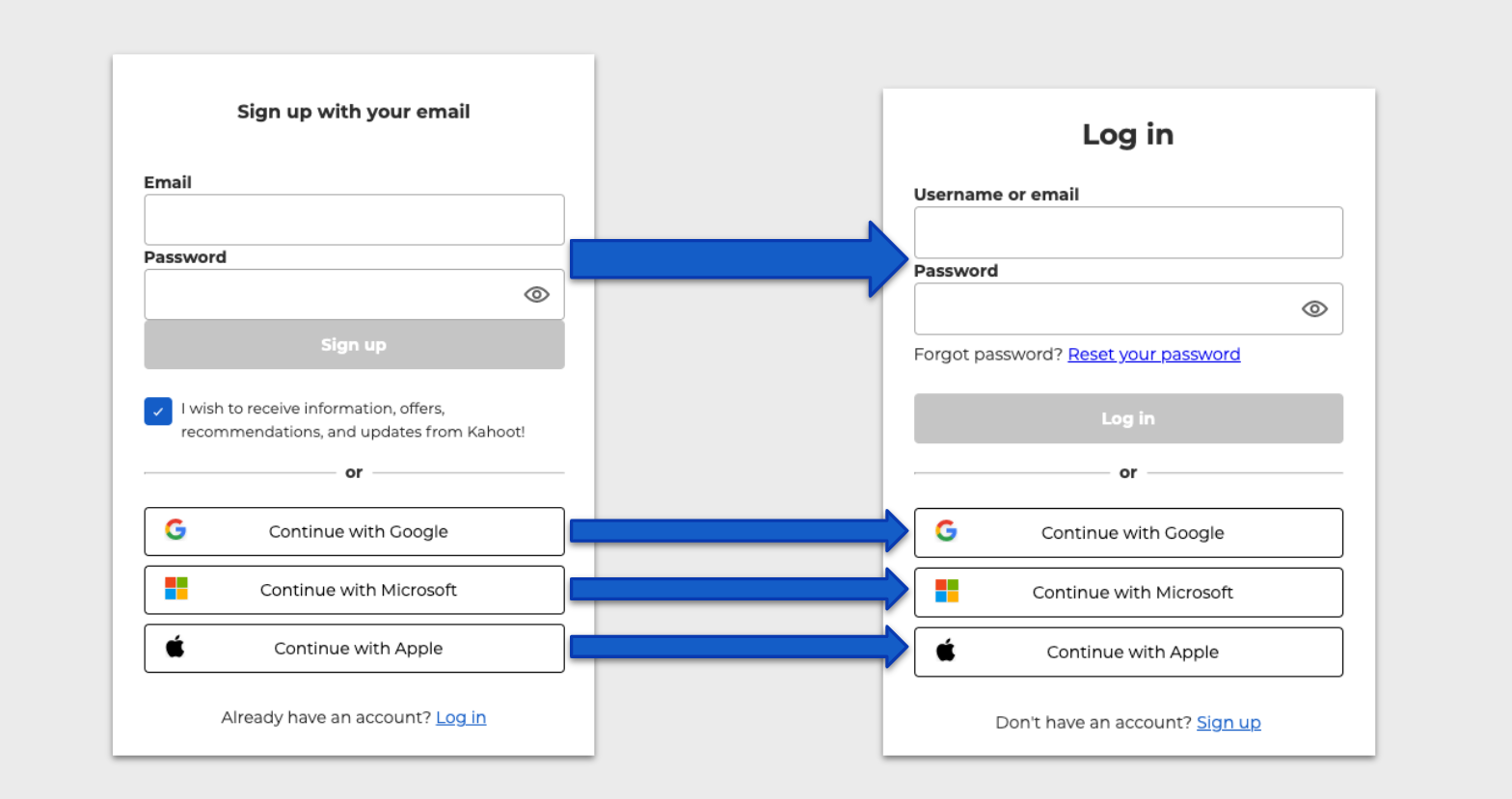 Sometimes, organizations will change their email domain, or they will update security requirements that insist you start using SSO with services like ours. There are some important things to know:
It's not currently possible to change your sign-on method.

If you chose an SSO method at sign up, it's not currently possible to update the email you use SSO with.
If your SSO email is about to change, it's important that you sign in and update your email on file before changes take effect so that you can continue accessing your account with username or email and password. You can update the email tied to your account and perform a password change.
We cannot verify you if you no longer have access to the email on file. Please ensure you keep this current at all times. If you no longer have access to the email you created your account with, you will need to create a new account.
You reset your password but are still told it's incorrect
If you already reset your password and are still unable to sign in with email and password, try signing in with your username. Young students cannot sign in with email. If the information you provided at sign-up indicated you're a minor, you will need to use your username to sign in. If you've forgotten your Kahoot! username, it should be in the reset password email sent to you.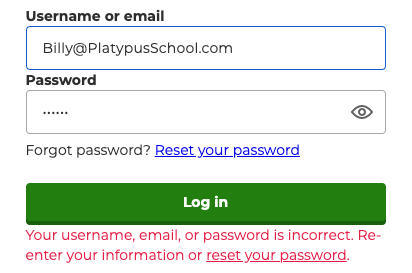 Password reset tool says "We couldn't find a user with that email"
If you tried to initiate a password reset and saw this error, we likely have a different email on file for the account you're trying to access. You'll need to try a different email. Please note that our password reset tool will rate limit how frequently you can submit requests. If you'd like, contact us and list the email addresses you have access to so that we can say yes/no as to whether there's an account tied to each.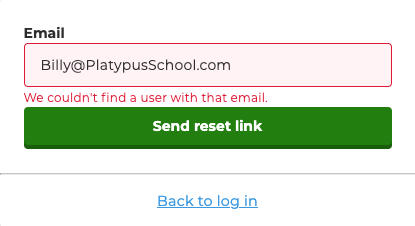 Not receiving a password reset email
Seeing an error saying try again later?
This tool limits how often you can request a password reset. Please try again in about an hour, or use a different device for immediate use.
Advised to check your inbox but nothing's there?
Password reset emails should be received within 5 minutes. If not, then your email service may be blocking our service notifications. Schools and businesses often provide email addresses that are controlled by a service with heightened security settings. If you don't find our email in your spam folder, you'll need to contact your email server's IT admin and request they whitelist noreply@getkahoot.com so you can receive service notifications from us.