This article covers creating and editing kahoots and questions on the web platform.
For instructions on how to create and edit kahoots in our mobile app, read this article.
This article covers:
How to create a kahoot
Your kahoot creator view shows different features depending on the currently active workspace. This is why it's important to be mindful of the current workspace you are navigating.
You have to click Create in the workspace where the game should be saved and where the subscription that offers the needed features is reflected. If you are a member of a shared workspace, you won't see the features assigned to the team plan in the kahoot creator of your private workspace.
Go to kahoot.com,
Log in and click the "Create" button on the right side of the top navigation bar,
Click the Kahoot button.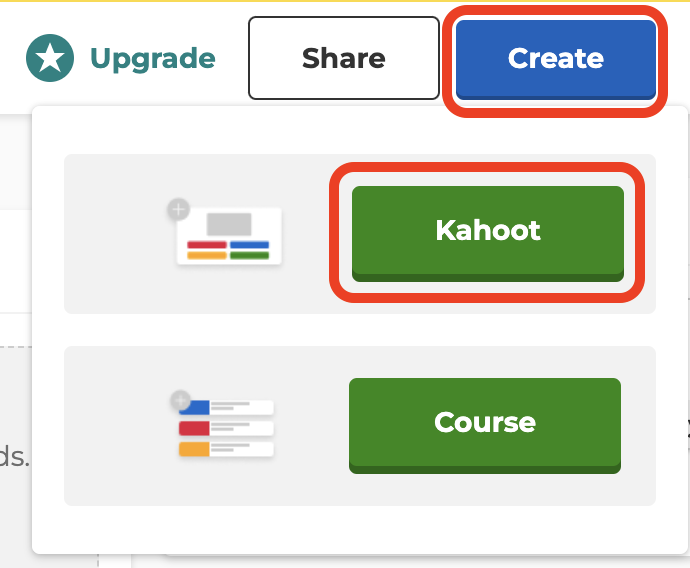 This will open the kahoot creator where you can: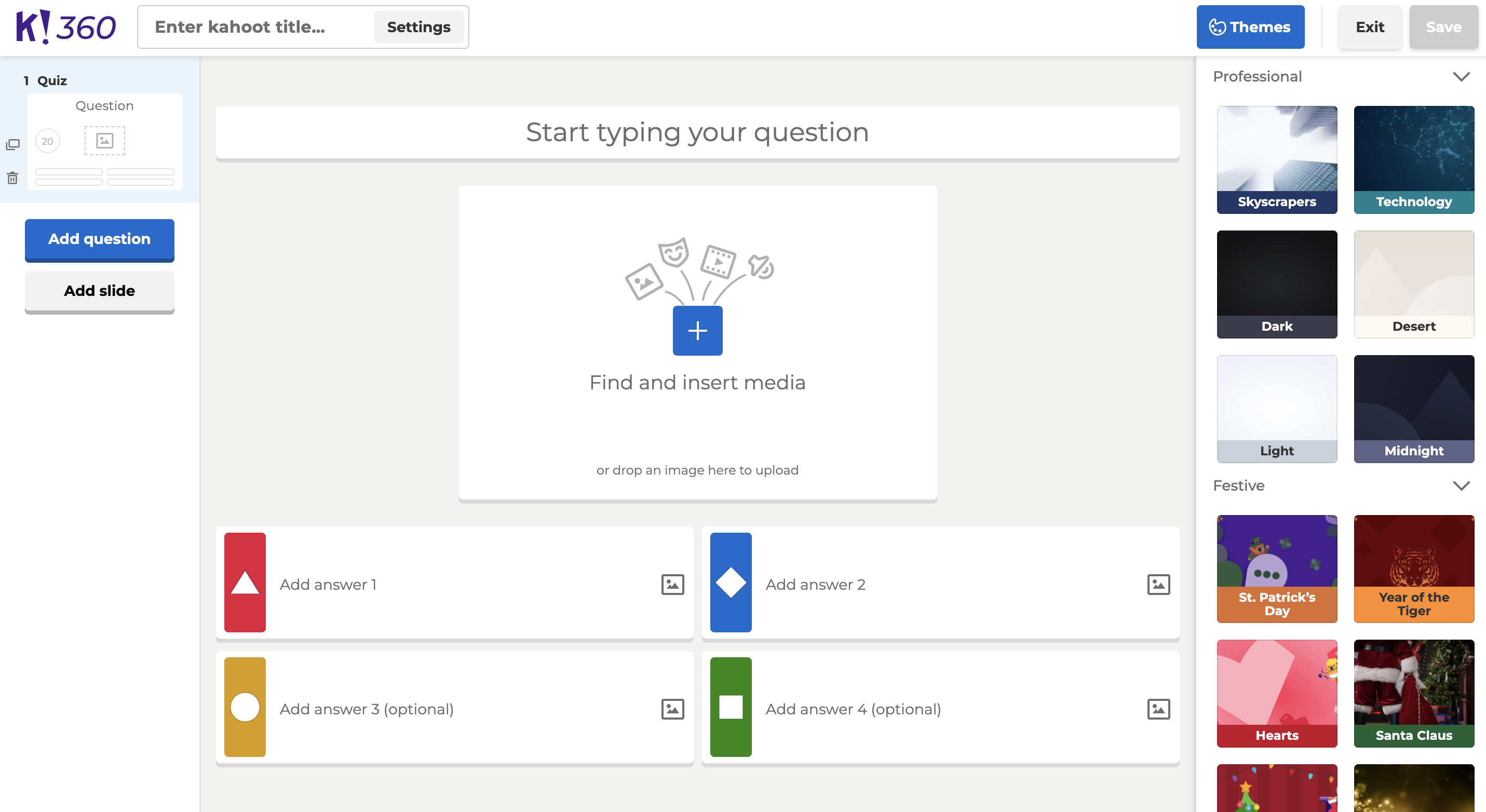 How to add and edit questions
Once you've started creating a kahoot, you can navigate between questions and add new ones in the left-hand sidebar. You can create new questions from scratch, copy them from other kahoots, import slides from a presentation, or import quiz questions from a spreadsheet.
How to move, duplicate, or delete questions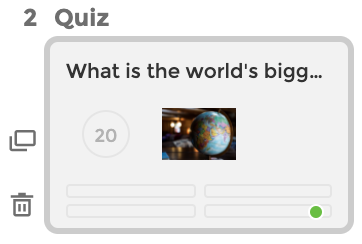 Click on a question in the left-side panel to edit it.
Drag a question to place it above or below another question.
Click the button to duplicate a question.
Click the button to delete a question.
How to add questions

Click on the "Add question" button on the left-side panel below questions you already added and choose what type of question you want to add. You can add up to 100 questions per kahoot. Read this article to learn about the different question types.
How to use Question bank
The Question bank is not available to all users. The availability of this feature depends on your subscription level. You will be prompted to upgrade your plan if your current one does not include this feature.
The question bank is not available to young student accounts.
Click "Add question" and use the search bar at the top of the window to search for questions.

Search for a keyword or phrase.
To search from your own kahoots, change the tab to "My Library".
You can also open the drop-down list on the right side of the bank to select specific question types.

5. Click "Add" next to each question you want to include in your game.
How to add more than 4 answers to Poll and Quiz questions
( available with certain plans)
By default, you will see 4 answer choices to fill in. You can add 2 more by clicking Add more answers right below the standard options.
How to use the "Import spreadsheet" option

Click Add question.

Find the "Import spreadsheet" button in the bottom right corner of the popup window.

Click the "Import spreadsheet" button

to import

quiz questions from a spreadsheet. You can read more about this feature here.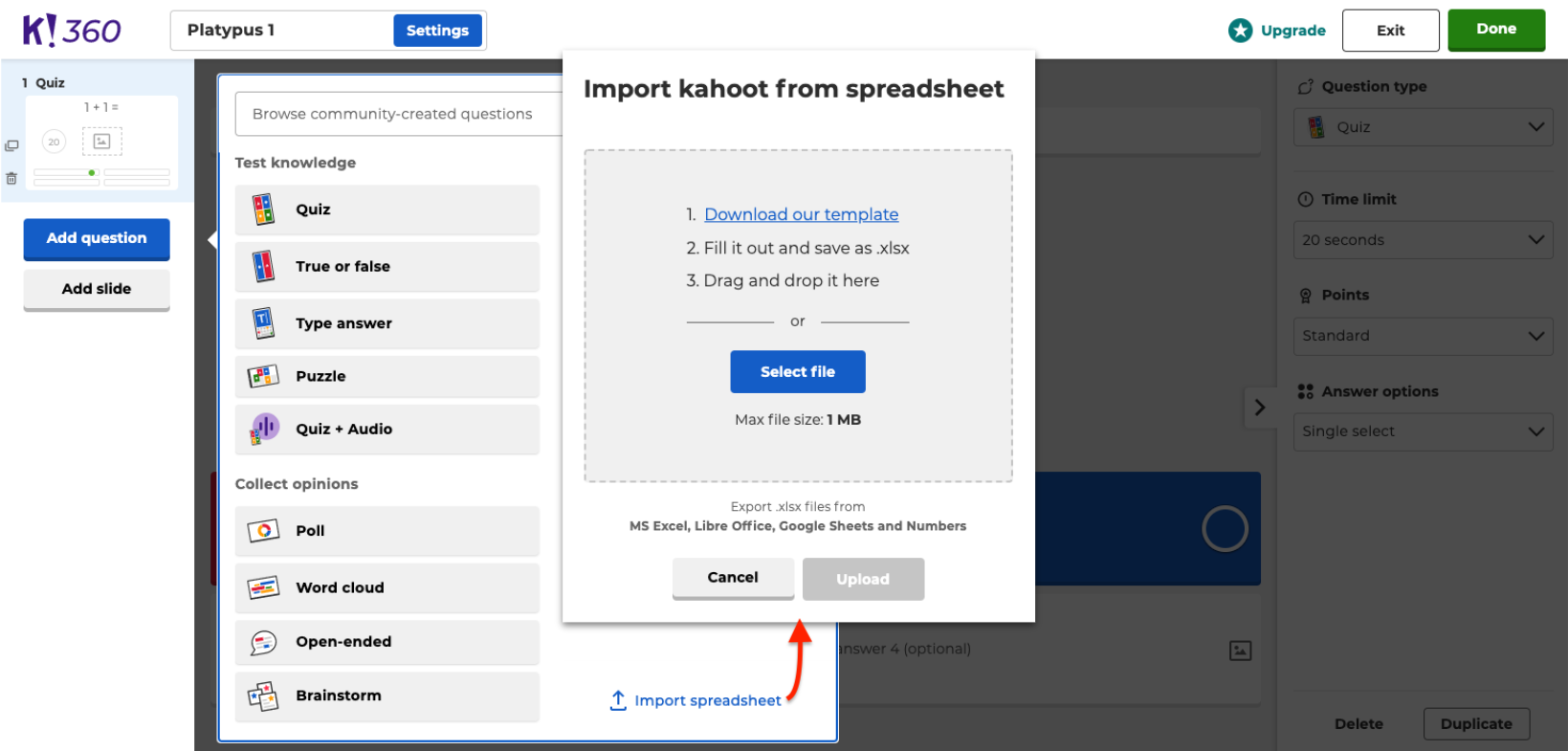 How to edit an existing kahoot
To edit an existing kahoot of yours, find it in the Library tab and click the pencil button ✎.
You can only edit kahoots you've

created or duplicated

, found in

your Library

.

As an owner, admin, or member of a team (team subscription required), you and other members can edit each other's workspace kahoots.