You can add videos from YouTube and Vimeo to your kahoots. Each question can have a video, as well as you can have a video play in the background of the lobby (only from YouTube). For guidance on the creator in our mobile app, read this article instead.
Question videos
Question videos can play an important role during gameplay. They can explain a key concept, offer subtle or obvious clues, or encourage participants to think carefully and be patient before answering. Each question can only have one image or video. Learn about uploading an image or our image library instead.
When editing a question, you can click anywhere in the "find and insert media" box.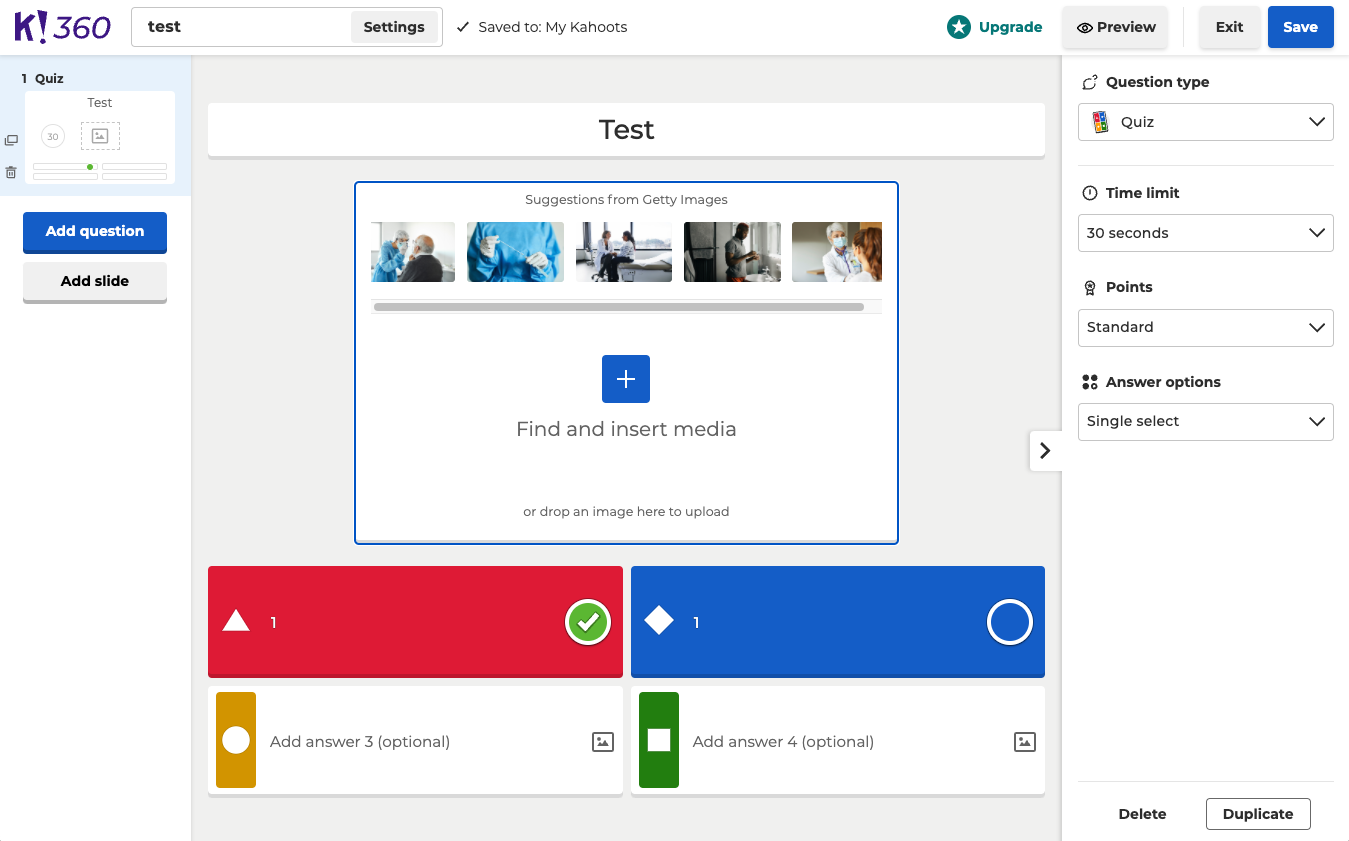 A menu will appear with different media options. Choose Videos to search YouTube videos or add a direct link to Vimeo video.
In the YouTube section, default results are based on your question text. Enter a word or phrase into the search bar to update results. Click on related tags just below the search bar to narrow results. Click on a video to select it.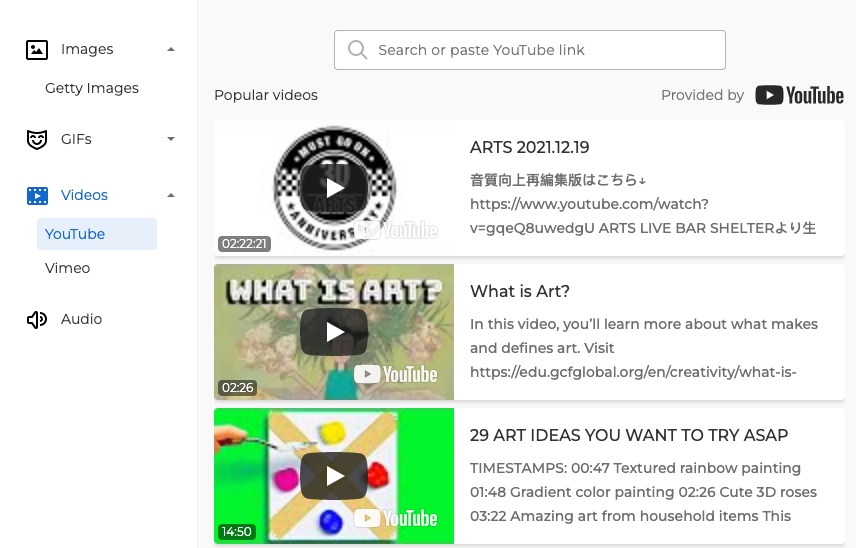 In the Vimeo section, you have to insert a direct link to the video. You can copy this link directly from the Vimeo platform. It's not currently possible to search through Vimeo videos within kahoot creator.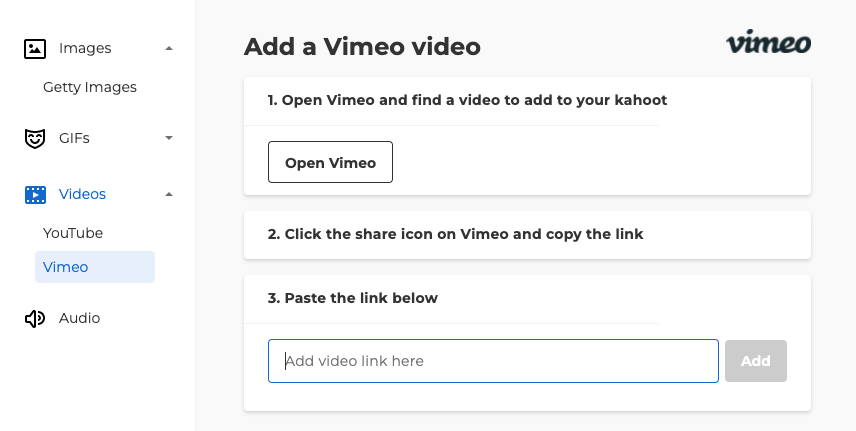 If you don't want the entire video to play, you can set the start video at and stop video at times to only play a portion of the video. You can type these in manually, or you can play the video and use the set buttons to set a time value to the video's current playtime. The video cannot play for longer than the question timer. Click the add button to add the video to your question.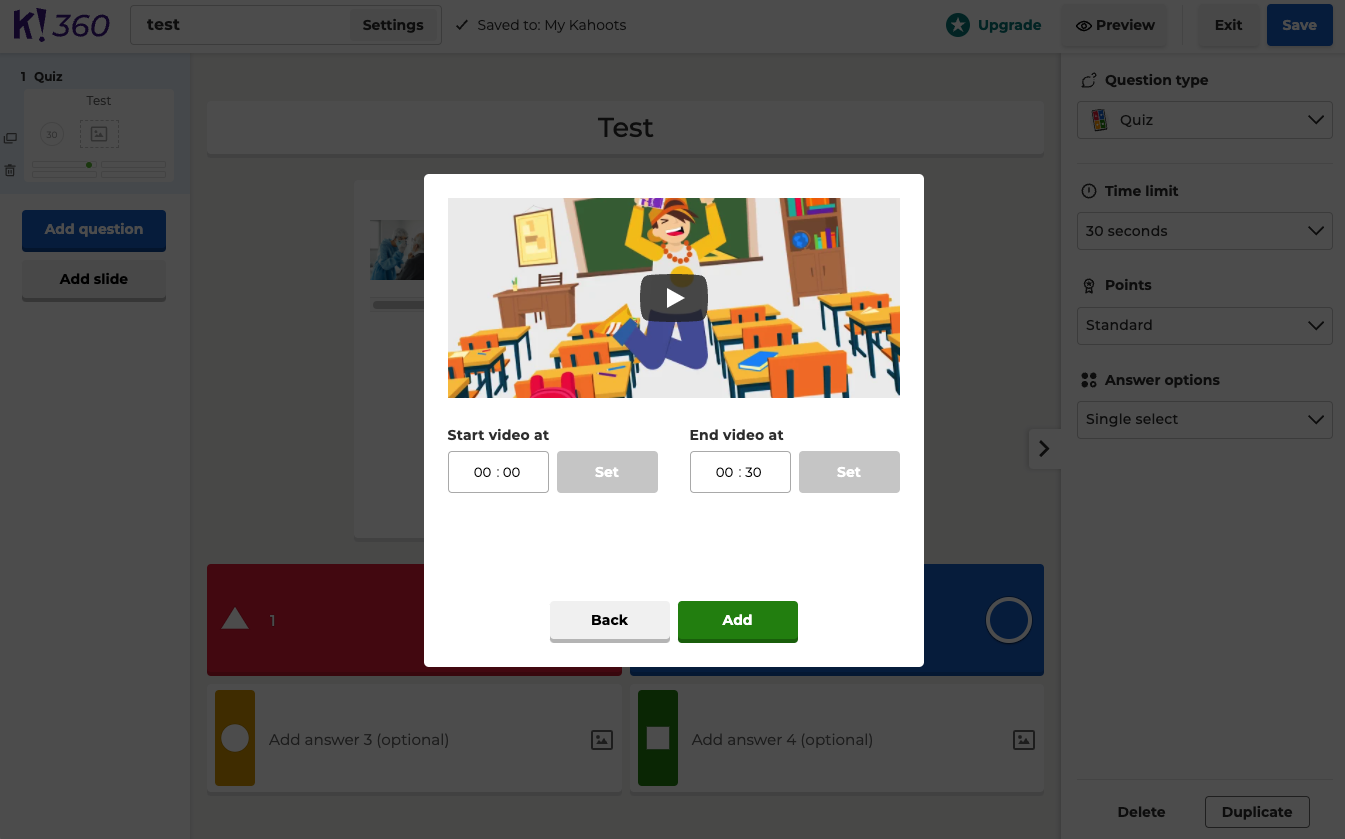 Lobby video
You can add lobby videos only from YouTube. It is currently not possible to add lobby videos from Vimeo.
A lobby video will play on repeat in the background while participants join a live game. This can be a useful opportunity to present an instructional orx informative video your kahoot is based on. Or you can embed a music video to serve as custom lobby music.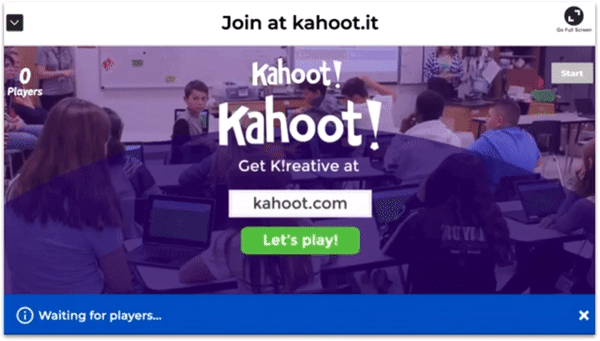 When editing your kahoot's summary, simply paste a YouTube link into the Lobby video field.

Lobby video not playing
Most modern browsers have updated their policies around auto-playing videos. If the lobby video doesn't autoplay, you can click anywhere on the video to get it going. After that, you can use the play button in the top right of your screen to start/stop it as needed.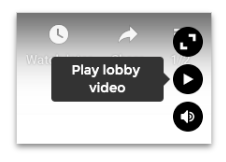 Unable to add video
In some cases when adding a video to your kahoot, it may appear to be stuck in a loading process, or you may encounter an error. This is usually due to network connection restrictions, or due to 3rd party software.
It is quite common for schools to block or restrict Youtube access and other domains, and this is a result of that. If you encounter this problem, please get in touch with your schools IT department or admin and ask if they can whitelist the following Youtube domains:
As this type of restriction doesn't originate from our end, it's not something we are able to fix, and it requires someone with admin rights to your network to be able to solve the issue.