Losing your hard work can be big setback! Yet, there are currently a few scenarios where you might be able to restore your work.
Restore an unsaved kahoot
If you started creating a brand new kahoot and it was never saved, it might be retrievable from your browser's cache. Make sure you're on the same device and browser you used to create it. Then try to make the same exact game type.
If unsaved data is found, you'll be prompted to restore or delete it.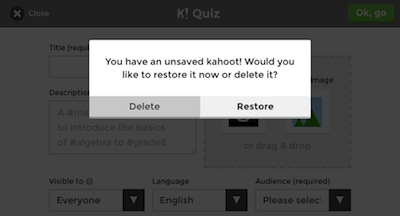 Restore a deleted kahoot
If you accidentally deleted a kahoot, there's a chance we can restore it. Please contact us with the following details:
username or email for the account it was created on

title of the missing kahoot

approximate date it was created

approximate date it was deleted