When editing a question or answer, a small toolbar will appear above the text box. It will allow you to format text as bold, italic, superscript, or subscript.



It will also have a Ω button that opens our symbol picker. The symbol picker allows you to insert symbols without using keyboard shortcuts.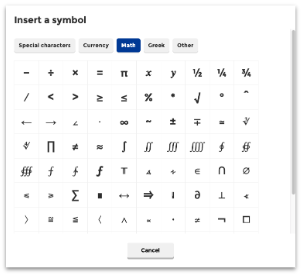 If you don't find a symbol or you need a formula written in a particular format/style, you can try using PowerPoint, Slides, or Keynote to do the following:
Write your formula with a large font size on a slide.
Download, export, or save the slide as a jpg/jpeg or png image file.
Upload the image to a question.