As the owner or admin of your own subscription, you have control over the billing information on file. Only you can update the payment details on file, adjust the total licenses included in your subscription, or access past/current invoices. To do any of this, start by going to your Billing page.
From your account settings menu , navigate to Billing.
Note: The interface may differ slightly depending on whether your subscription includes shared workspace functionality or not.

Note: If you subscribed via our iOS or Android mobile app, you do not have a shared workspace. Your subscription is managed by Apple or Google. You may see a Manage subscription link in your account settings menu that directs you to sign in to the appropriate app store. Any billing matters (including refund requests) for mobile subscriptions are subject to Apple or Google's terms and require you to use their app store app, web portal, or contact them directly. You can find more information about mobile app subscriptions here.
Update billing info
In the Current Plan section, click Change payment details. A new page will open in another tab.
In the Billing Information section, click Edit.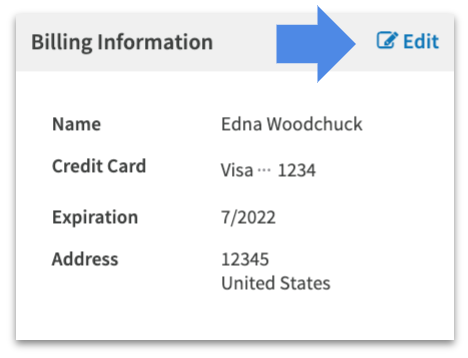 Now you can edit the following:
Your company name.
Your first and last name.
Your credit card on file
(please ignore the card number placeholder, and simply start to type your card number in the relevant field. The grey number there shows where the new number should go).
Your VAT number.
Note: Changes take effect on future invoices only.
How do I update my billing email?
The account's billing email is where Kahoot! sends invoices and billing-related communication such as renewal reminders, past due notifications, and declined payment notifications.

Your account login email might be different than your billing email. If you want to change the login email, check out this article.

To update your billing email, all you need to do is:

Open the account menu by clicking on your avatar icon in the top right corner of the platform and navigate to the

Billing

section. You can head over directly to your Billing page from here:

https://create.kahoot.it/user/billing




Go to

Manage subscription

and select

Change payment details

.
In the top right corner, you should see the name of the account owner. Click the toggle and select

Change Email

.
Note that the Change Password option in this section will not update the password to your Kahoot! account. To do so, please check out this help article.
View, download, print invoices
If you have a mobile subscription, you will not find your invoices on the web. Instead, you'll need to get this from the relevant App store. For more information, please click here.
In the Billing section of your account profile, click View invoices (there are two different layouts depending on your account - please see both examples below).
Layout 1:
Layout 2: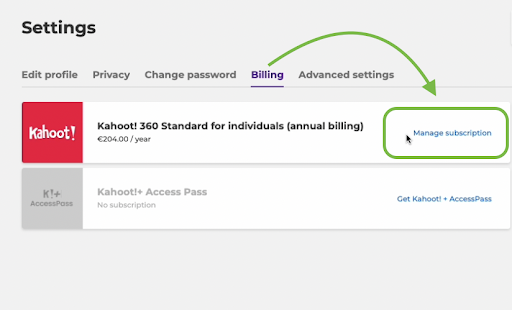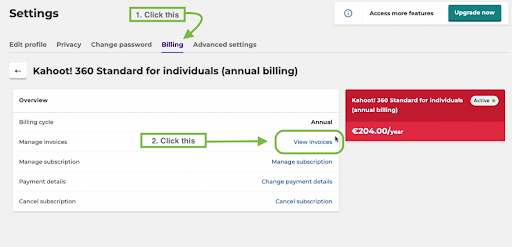 In the Invoices section, you can do the following:
Click All invoices to see a list of all invoices.

Click a download button to download a PDF version of an invoice.

Click an invoice number to view the invoice online.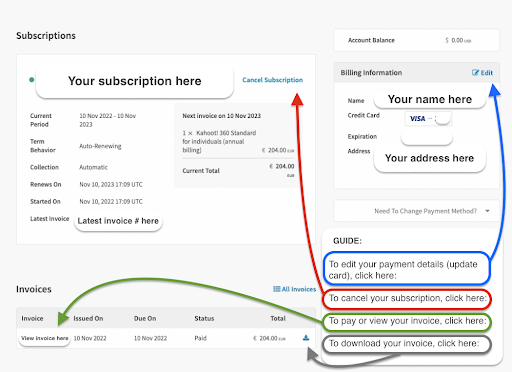 While viewing a specific invoice online, you can also print the invoice or download it as a PDF. These options will be just above the invoice.

Can I change the address on my invoice?
Unfortunately, because invoices are considered transactional documents, we aren't able to make changes to the address details on issued invoices due to strict regulations. We might be able to provide additional address details as a note in the invoice, but this depends on a couple of different factors. Please reach out to us if you need your address details updated.