As the owner or admin of your own subscription, you have sole control over the billing information on file. Only you can update the payment details on file, adjust the total licenses included in your subscription, or access past/current invoices. To do any of this, start by going to your Billing page.
From your account settings menu, choose Manage users or Team settings.
Note: "Kahoot! Plus for personal use" subscribers do not have a team space. Instead of Manage users or Team settings, the account menu will simply have a direct link to the Billing page.
Then click Billing.

Note: If you subscribed via our iOS or Android mobile app, you also do not have a team space. Your subscription is managed by Apple or Google. You may see a Manage subscription link in your account settings menu that directs you to sign in to the appropriate app store. Any billing matters (including refund requests) for mobile subscriptions are subject to Apple or Google's terms and require you to use their app store app, web portal, or contact them directly.
Update billing info
In the Current plan section, click Change payment details. A new page will open in another tab.

In the Billing Information section, click Edit.
Now you can edit the following:
Your company name.
Your first and last name.
Your credit card on file.
Your VAT number.
Note: Changes take effect on future invoices only.
Adjust total licenses
When you remove a member from your team, that member's assigned license becomes available for you to invite someone else at no extra cost. If it's no longer needed, then you can lower your total licenses to prevent being charged more than necessary on your next invoice.
In the Licenses and hosts section, click Edit licenses. A prompt will appear. You can add or subtract from your total licenses.

If you add licenses...
You'll need to confirm a prorated charge for additional licenses.
If you subtract licenses...
Dues already paid are not refunded. But your next invoice will be less the cost of licenses removed.
View, download, print invoices
In the Overview section, click View invoices. A new page will open in another tab.

In the Invoices section, you can do the following:
Click All invoices to see a list of all invoices.

Click a download button to download a PDF version of an invoice.

Click an invoice number to view the invoice online.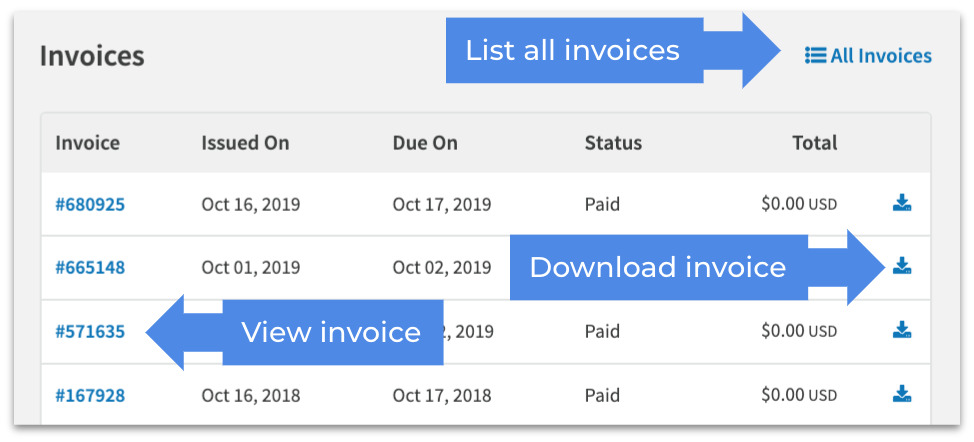 While viewing an invoice online, you can also print the invoice or download it as a PDF. These options will be just above the invoice.