Admins and members can use their company's theme on private or team kahoots. The team theme is set by the admin and will add a branded logo throughout live games.
Set the company logo
As admin, you can set your company's logo. This must be done before anyone can use your team's theme. Images must be a JPG or PNG file type, no larger than 5MB. We recommend using a logo with a white background.
Click the gear in the top right of your screen.
Click "Manage team space"
Click "Upload" to choose an image.

Change or remove company logo
In the same place you added a logo, hover over your current logo and click "Change" or "Remove".
Add company theme to kahoots
If the admin has set the company logo, the admin and members of that team can use their team's theme on private or team kahoots.
If it's visible to only you or your team, select your theme under Branding.
Click "Done".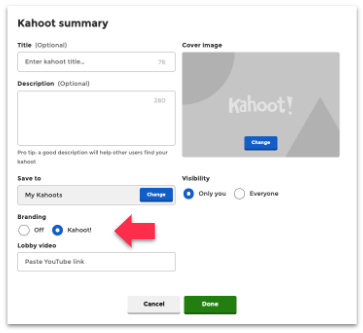 That's it, now this kahoot is branded!