After you click the play button to start hosting a live game, you must choose to host your game in Classic or Team mode. But before you do, there are several game options you can turn on or off that will affect gameplay.
Game options
Lobby music
Occasionally, we will change the default lobby music to one of our many awesome tracks (like during Halloween or Christmas).
If you'd prefer, you can always change back to the "Original" track during these times.

With a Premium subscription, you can change to any track at any time!
Simply open the lobby music drop down and select your preferred track. Use the play button next to a track to hear a preview of it.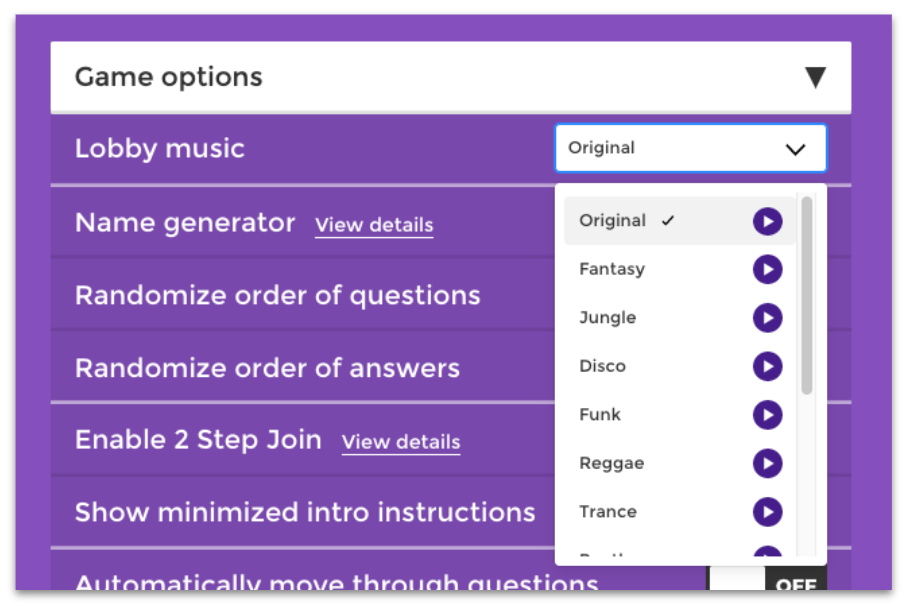 Name generator
Get in the game fast! Our name generator will choose nicknames for players.
Players click or tap "Spin!" on their devices to generate a nickname.

They can spin up to three times.

Randomize order of questions
Toggle this on to randomize when each question is asked.
Randomize order of answers
Toggle this on to randomize how answers are arranged on the screen.
Enable 2 Step Join
Sometimes players might get a little too playful and share your game PIN with others who aren't actually in the room. Turn this on to ensure that only people who can see your PIN are able to join.
After entering your PIN, players must also click or tap four buttons in the pattern shown on your screen.

The pattern changes every seven seconds.

Show minimized intro instructions
If your game has a lobby video that you want your audience to watch while they join, you may want to minimize intro instructions so that they cover less of the video. Minimized instruction also lets you see more nicknames on screen without needing to scroll down.

Automatically move through questions
Want your game to progress on its own? Turning this option on is ideal for setting up self-operating kiosks or an auto-piloted classroom activity!
The game will auto-start if at least one player has joined and 15 seconds elapse without any more players joining.

Results and leaderboard screens each display for five seconds.

Once the game is over, it will restart or play the next game in your

playlist

. Players will not need to re-join unless you toggled on "Require players to re-join after each kahoot".
Require players to re-join after each kahoot
Once the game is over, you can play it again or play the next game in your playlist. By default, players will not need to re-join. Toggle this on if you want them to re-enter a PIN and nickname. This is also is ideal for self-operating kiosks or auto-piloted classroom activities, as you may need a way to ensure that only players who are still playing are part of the next game.