Create a fun learning experience players can take with them wherever they go!
To assign a challenge in the mobile app...
Open (or

install

) the app and

sign in to your account

.

Find and select the Kahoot

you want to challenge others with.

Use the kahoot's "Play" button in the bottom-right of the screen.

Choose "Challenge".

Tap on the pencil button to adjust how long from now the challenge ends.

Tap on "Challenge options" if you would like to randomize answer order, hide player position, or hide the question timer. (Note: by default randomize answer order is toggled on and the question timer as well)

Press create and share your challenge pin with others. You can select Google Classroom or Share link to share the challenge or choose

Remind

.
Subscribers on Kahoot! Premium+ for work or Kahoot! 360 will be able to turn on Player identifier (collect emails to identify and track players) and Personalized learning (Players can practice further based on their performance).
The number of players that can join depends on how you use Kahoot!. To accept a challenge, players need to install the Kahoot! app on their iOS or Android devices, or play the challenge in their web browser. They can join using the challenge link or PIN.
You can also create challenges on the computer.
To share a challenge in the mobile app...
After you've assigned a challenge, you'll see a PIN and challenge link to share.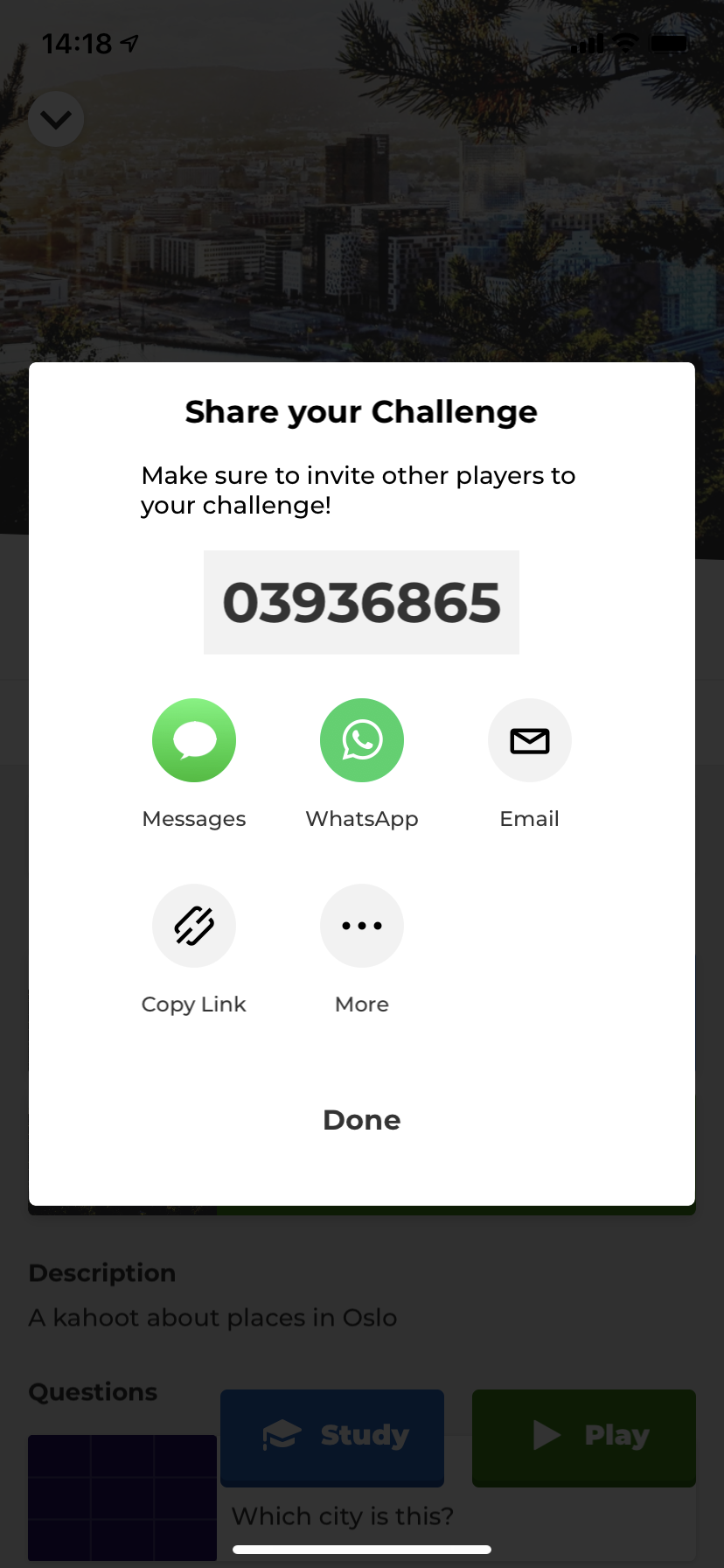 Tap the PIN to copy it to your clipboard
You can share it however you'd like, even write it on a whiteboard!
Tap the "Share link" button
This will open your device's sharing menu. In most cases you can share via text, email, Twitter, and Facebook. Google Classroom, Remind, or other media outlets installed and integrated on your device may also be available on this menu
Need to share a PIN for an existing challenge?
Find the kahoot you created the challenge on, view the active challenge's summary at the top of the home screen, then tap the game to access the PIN and share link.