By starting a subscription, you become responsible for managing billing information and members of your workspace (unless you have an individual subscription that does not include a shared workspace).
Alternatively, if you know of someone in your company that has already started a subscription, they can invite you to their team and manage the billing for the whole team.
CAUTION: Kahoot! has a no refunds policy. Do not start a subscription unless you intend to manage billing!
LEARN ABOUT:
How subscriptions and licenses work
By starting a team subscription, you become the owner of your own workspace.
The individual plans do not include the shared

workspace

functionality and do not allow you to add more members. You need to upgrade to a team plan in order to gain access to this functionality.


A license is required for each user that needs access to your workspace. Each license will cost the advertised "per user" amount for the chosen plan, prorated based on when each license is added.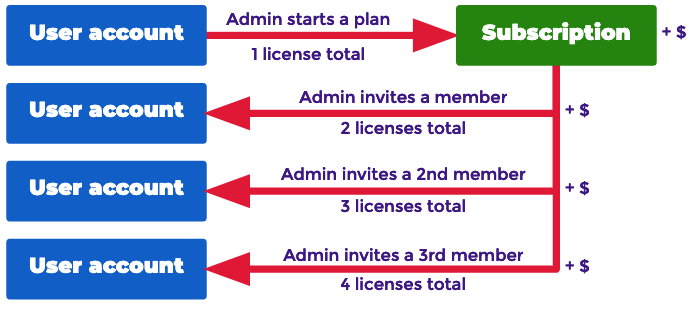 MOBILE APP SUBSCRIPTIONS DON'T SUPPORT LICENSES:
Apple App Store and Google Play Store don't support purchasing multiple licenses on one subscription plan. Therefore, subscriptions purchased through our mobile apps do not include a shared workspace feature.
How to start a business subscription
To create your own workspace, you need an account. After your account is created, you'll be presented with multiple plan options. Choose the plan that best suits your needs.
Next, you'll be prompted to set up a billing profile. We accept debit or credit cards from Visa, Mastercard, and American Express. We will charge your card to start your subscription and when it auto-renews each year (cancel anytime to prevent auto-renewal).
If you choose a free trial, Kahoot! Is authorized to charge your debit or credit card automatically once your trial ends. We have a no refunds policy. If you decide during the trial that Kahoot! isn't a good fit, sign in and cancel at least 24 hours before your trial ends to avoid being charged.
For K! 360 or enterprise plans, you'll see a "Want to pay by invoice?" link. Click it to request an invoice instead of supplying card info. Invoices must be paid by electronic funds transfer within 30 days of sign up. Bank details will be included on the invoice. We do not accept mailed checks.
Complete the billing information form to create your own workspace.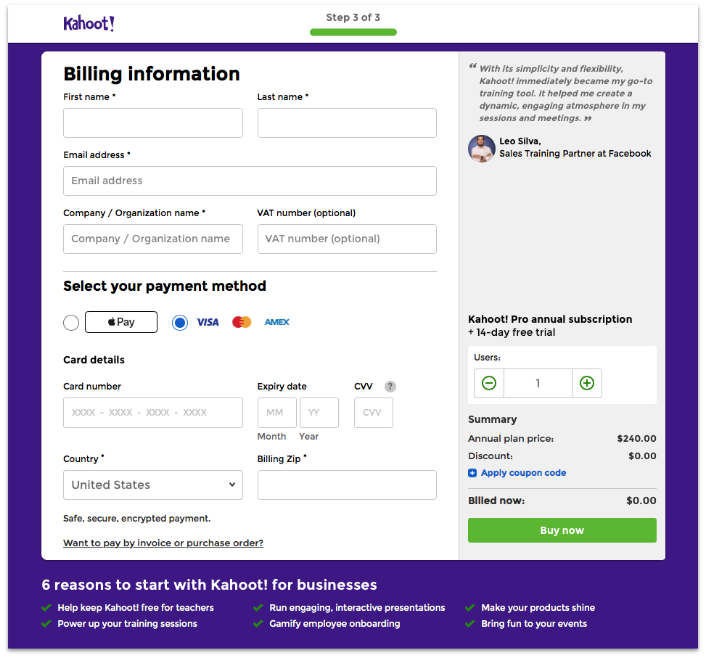 After your team is set up, you will have access to editing your billing information as needed. Below are some details on each field:
First and last name

: These should match what's on your card.

Email address

: We will send invoices to this email whenever your card is charged.

VAT

: This tax ID will appear on invoices, if provided.

Card Number, Expiry date, and CVV

: These should match what's on your card.

Country and Postal code

: These should match what your card provider has on file.

Users

: If you know you're going to

invite others to your team

, you can purchase licenses for them now so that all licenses are purchased on one invoice. Otherwise, you can add/remove additional licenses later on as needed.

Congratulations! You're now owner of your own team.