Premium subscriptions unlock several amazing features in Kahoot!. To take advantage of them, you need to create a team by signing up for a subscription or join a team someone has already set up. A team can only have one admin. If you're currently an admin or member of a team, you cannot join another team until the admin of your current team removes you or you delete your team space.
Join a team
If you're trying to join a team that's already been created by someone, the admin/creator must first invite you to their team. You'll receive an email invitation to join. Accepting will let you join with an existing basic account or create a new account. Invite links are one-time use, valid for up to 7 days.
Set up a team
To create and manage your own team, be sure to already have created an account. After providing account details, you'll be taken to a pricing page showing our current offerings. Choose the plan that best suits your needs.
Next, you'll be prompted to set up a billing profile.
If your plan includes a trial period, it will be stated in the plan summary. You will not be billed until the trial ends. Otherwise, billing is processed upfront.

We accept Visa, Mastercard, and AMEX debit or credit cards.

Apple pay is available if using Safari on Mac, iPad, or iPhone.

For

premium or enterprise plans

, you'll see a "Want to pay by invoice or purchase order?" link in the bottom left of the billing form. Invoices must be paid by international wire transfer within 30 days of sign up.
Complete the billing information form to create your team.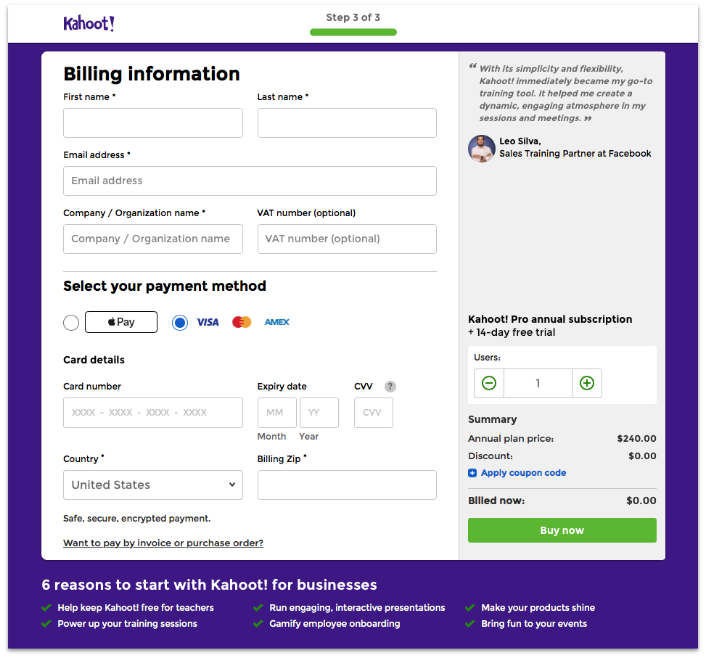 After your team is set up, you will have access to editing your billing information as needed. Below are some details on each field:
First and last name

: These should match what's on your card.

Email address

: We will send invoices to this email whenever your card is charged.

VAT

: This tax ID will appear on invoices, if provided.

Card Number, Expiry date, and CVV

: These should match what's on your card.

Country and Postal code

: These should match what your card provider has on file.

Users

: If you know you're going to

invite others to your team

, you can purchase licenses for them now so that all licenses are purchased on one invoice. Otherwise, you can add/remove additional licenses later on as needed.

Congratulations! You're now admin of your own team. You'll now be walked through uploading logos for your team's theme, inviting members, and moving your own kahoots into your shared team space. These steps can be skipped for now, but are important if you want to take full advantage of new advanced features.