At some point, you might need to invite or remove teachers to or from your team space. You can do so from the Settings menu by choosing Manage users.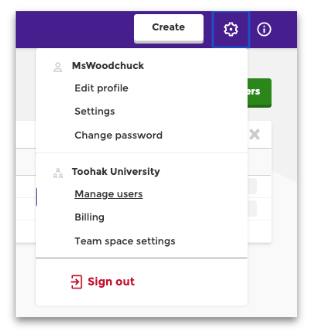 Inviting teachers
To invite teachers, click the invite users button below the gear icon in the top-right of the screen.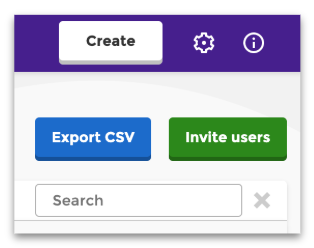 There are three ways to invite more teachers: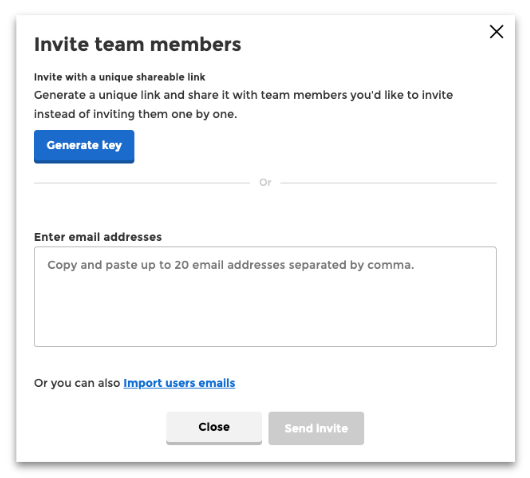 Invite with a unique shareable link
This link can be shared by email, text, chat, forum, or LMS. Wherever you make it available, others can click it to request joining your team. You can then approve or deny new requests from your Manage users page. You can also delete your link and generate a new one any time.
Click the Generate key button.
Copy the shareable link and paste it anywhere you want people to find it.


Check the Manage users page and inbox for notices about new requests to join.

Enter email addresses
To invite teachers, just add their email addresses (separated by commas) in the Enter email addresses box and click Send invite. You can send invites to up to 20 emails at a time. Invites are one-time use, valid for up to 7 days.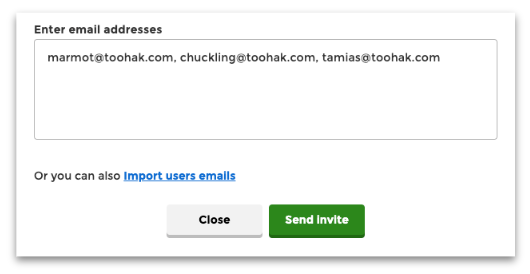 Import user emails
You can add or edit users by importing a CSV file with their info in the following format: name@example.com, name. Download our CSV template or XLSX to make sure you are using the correct format for importing emails. Invites are one-time use, valid for up to 7 days.
Select a CSV or XLSX file or drag it to the file box on your screen.

Click Send invite.

Removing teachers
To remove a teacher's access to your team space, find their username in the list of teachers on the Manage users page and click the Remove button.
The teacher's access to the team space will be revoked immediately.

Team kahoots created by them will remain in the team space

.

Subscription dues will be adjusted at the start of your next billing cycle.