Completing smart practice step by step, students will eventually ace the kahoot by answering all the questions correctly.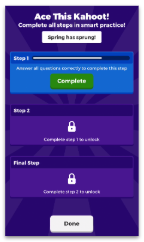 To maximize knowledge retention with the spacing effect, smart practice steps are distributed over several days. 
Step 1 can be played any time after the initial game. The learner will be taken through questions answered incorrectly until they score 100%.
Step 2 will be unlocked after 24 hours.
Step 3, the final step, will be unlocked after another 48 hours. The app will remind learners once the next step is ready to play.
On both steps 2 and 3 the learner replays the original kahoot with order of answers randomized until they ace all questions. Practicing the content in short rounds distributed in time will help learners remember content of the kahoot better, and retain it for a longer time.