Kahoot host: how to host a live kahoot on any device in person or online. Time to put your game show host's hat on! Try today.

☝️ A live kahoot is best hosted on a large screen and with a live audience (either in person or virtual).
☝️ The game is played simultaneously by all players and requires the host. To learn how to assign a self-paced kahoot click here.
___
✂️ Shortcuts ✂️
Kahoot host: Tech requirements
As a kahoot host, you should have the following:
A desktop, laptop, tablet, or mobile device -

make sure a

supported web browser

or our

mobile app

is installed.

A projector, large screen, or video conference software -

display resolution should ideally be at least 1024x768. If text or elements on-screen overlap or are too small, try using your browser's zoom in/out feature.

A stable internet connection -

be sure to

test your venue's internet stability

at least a few days before any major event.
⚠️⚠️⚠️
It's not possible to rejoin with the same nickname and accumulated points after leaving the game (e.g. closing the app or the tab; losing connectivity). Players who rejoin the game, need to provide a new nickname and collect points from the beginning.
⚠️⚠️⚠️
The Kahoot!'ing experience may be disrupted when someone shares the PIN to the game externally or is using BOT services available online. Read more about it here.

💡 Accessibility tip for blind or visually-impaired learners: As the host of a live game, you and your learners can use screen readers. Your device will read out the question and answer text (answers prefaced by "answer one..., answer two…"), while learner devices will audibly say "answer one, answer two, …". Your players can also use our Read Aloud feature available in mobile apps.
Kahoot host:
Launching a live game
☝️ Launching a live game differs depending on if the kahoot host is using a web browser or our mobile app.
On the web
To become a live kahoot host in a web browser:
Log in to your Kahoot! account.
Locate the kahoot you want to host in your Library tab or the Discover page.

Click on the kahoot to open its details page.

Click the Start button.
☝️ Depending on whether the kahoot is on your Kahoots

page or the

Discover page, this button may look slightly different.

💡 Want to launch a playlist of 2 or more kahoots? Click here and find out how to do it.
💡 Want to play a kahoot individually with only one device or preview your kahoot before hosting live? Click here and find out how to do it.
💡 You are a kahoot host and want to use Kahoot! on a video conference? You can use your conference tool's screen share feature. We recommend that you have a look at one of our integrations: Zoom or Microsoft Teams.
Kahoot host:

Choosing a game mode

The host's screen will display available game modes.

Choose the one that best matches the gameplay experience you want to provide your audience.

Classic
Use classic mode if you want every player to play individually.
Team mode
Use team mode if you want players to form teams. You can read more about Team Mode here.
Other game modes - Student-led modes
Kahoot! game modes empower every aspect of dynamics between players, from lesson or meeting planning to delivery, through to assessment and reporting. Read more:
💡 If you're a business user, to open the game modes, click the Other game modes option.
Kahoot host:
Settings
Before you choose the game mode, in the lobby when waiting for the players and in-between questions, you can go to a list of game options that can be accessed via the gear wheel icon on the bottom right corner of the host's screen.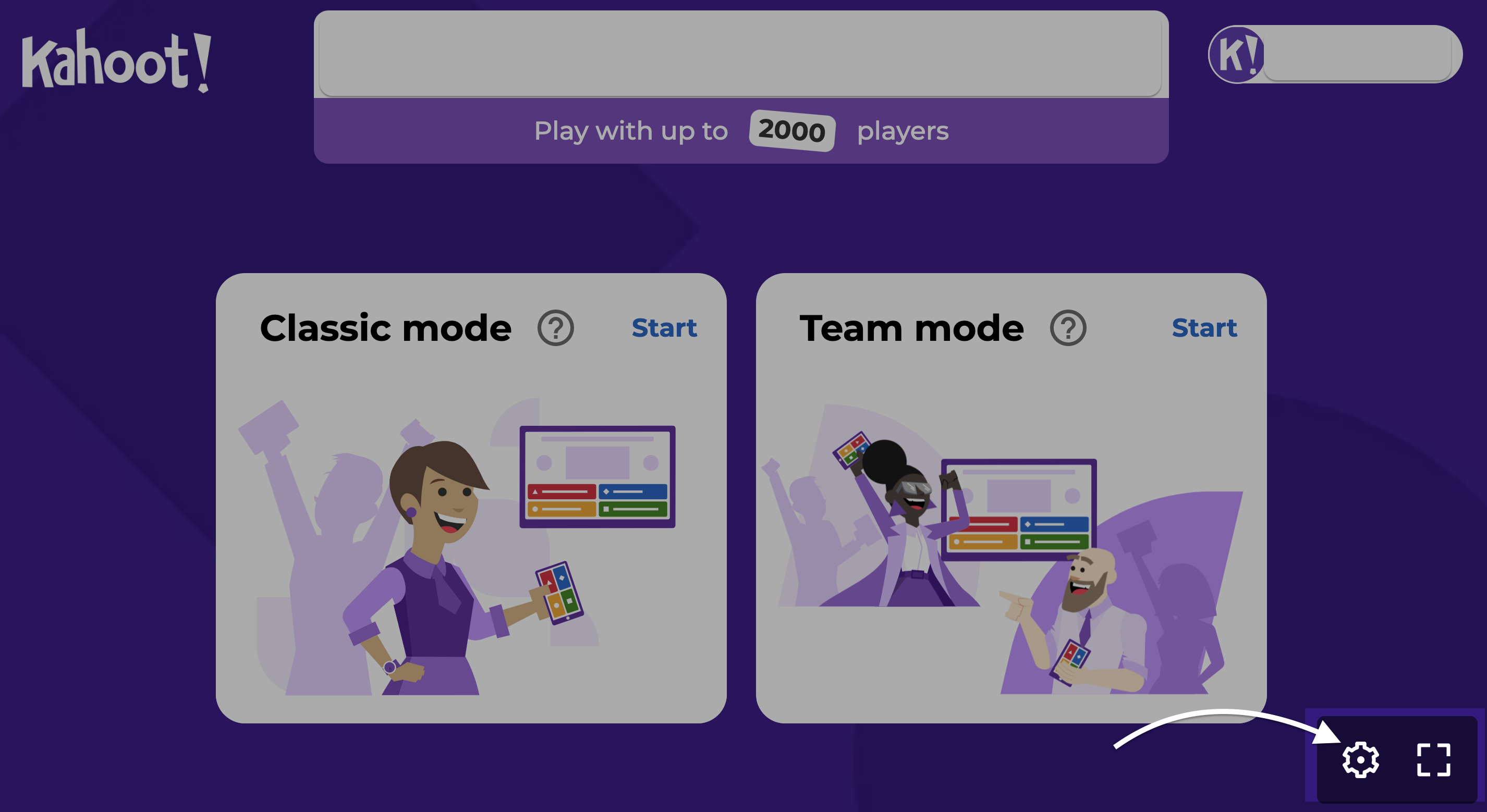 You can modify some of those settings during the game, in-between questions. Your settings will be saved for next time. You can read more about settings here.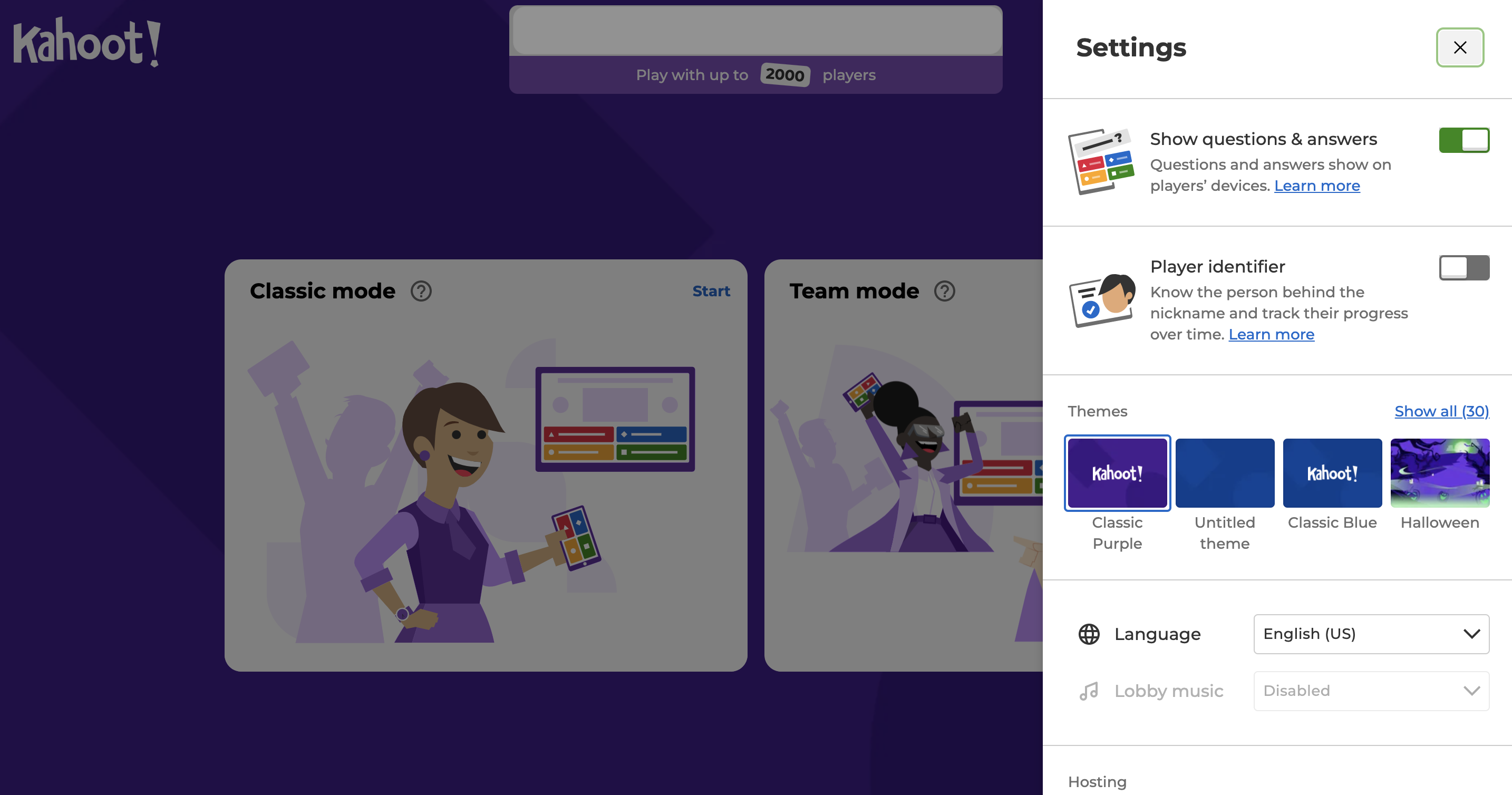 Kahoot host: Starting a live game
After you choose a game mode, the PIN code and QR code will be displayed on your screen. This is when your players can start joining.
Once you are sure everyone's in, you can hit the Start button on the right side of the screen.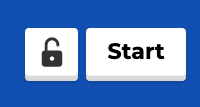 💡 Players can join after you've started the game. The PIN will be displayed at the bottom of your screen. You can lock the game and stop players from joining by clicking the padlock icon next to the Start button.
💡 You can click on the PIN code on the host's screen to copy a direct link to your live game session. You can share it with your players. The link will connect them directly with the game and they won't have to insert the PIN.
💡 Click on the QR code to expand it and make it easier for players to scan.