Team space is a paid feature, a great way to manage content at scale. Team space is also perfect for co-creating, sharing, and organizing content through shared folders.
Team Space is visible with an active subscription through your account settings under manage users. (Exception: Personal and individual plans and mobile app subscriptions)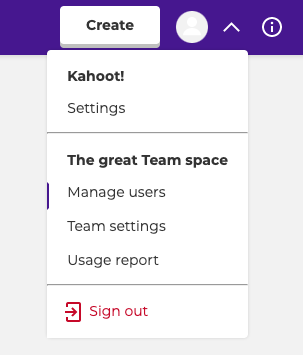 An owner or admin of a subscription will be able to add and remove members to and from their team space. Each team-space member or an admin needs to have an active license purchased by the owner.
If you're an owner, admin, or a member of a team, you can edit and host other team members' kahoots, and give them the same access to your own kahoots.