Shortcuts:
Save
As you edit your kahoot, the creator will auto-save changes you make. If, for any reason, you exit the creator (e.g.: browser closes or computer crashes), changes should automatically save as a draft. Saving is indicated next to your kahoot's title, in the top navigation bar.

If your game is saved as a draft, it cannot be played or shared. You need to save your game as a complete version. You can do that by going to your Library's Drafts section and clicking the Edit button under the game's title.
​​​
This will take you to the creator. From there you need to click the Save button in the top right corner.
​
Once you click the Save button a pop-up message will appear informing you about the content that needs to be revised before you can save the game as a complete version. Any feature in the kahoot creator marked with a star
​isn't included in your current plan.
To save your game, you will either have to:
upgrade to a higher plan, or
delete that question type.
Please make sure to check the Themes section of the creator. If you have any issues with saving the game, we can recommend removing the currently selected theme and checking if the game can be saved then.
If there are no higher-tier features used in your game, you will be able to host, assign and share it right away.
Preview
This shows you what your kahoot will look like during a live game. At the bottom of the screen, you can "exit preview" to go back to editing, switch to a different question, or make the preview full screen.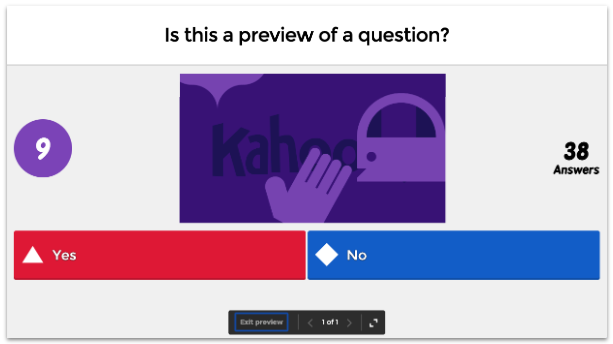 Exit
This will allow you to discard or keep changes you've just made.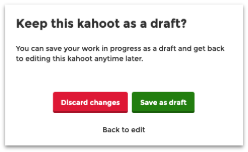 Discarding changes will erase all your recent work, reverting your kahoot back to how it was the last time you clicked "Done".

Keeping them will create a draft version of your kahoot under "My Drafts"

.

Drafts are not playable

as live games and assignments, though you can still play your kahoot without drafted changes if the previous version was saved.