Make your kahoots even more interactive and personalized by inviting Bitmoji into your Kahoot! Trivia nights, classroom quizzes, and Study Groups.
With this integration, you are able to:
Import your Bitmoji avatar as your Kahoot! profile picture,

See your and other players' Bitmojis in reports after a game played in the app,

Follow your friend's reactions to the leader board and Podium in live games as well as the Study Group games on the app,

Host Live Games as a "Bitmoji classroom".
How to add Bitmoji as your Kahoot! profile pic:
Through the web platform:
1. Log in to your Kahoot! account at kahoot.com.
2. Click on your profile picture in the top right corner, and go to Profile settings.
3. In the User Information section, click Connect with Bitmoji.
4. Choose whether you'd like to connect via Snapchat or Bitmoji account.
5. Log in and follow the described steps to connect to add your Bitmoji 🎉
In the Kahoot! app:
1. Make sure you're logged in to your Kahoot! account.
2. Tap your profile image in the top left corner of the screen.
3. Tap the image in order to change it and select Bitmoji. Tap Continue in the dialog informing you of third-party applications.
4. If you have the Bitmoji app on your phone, you'll be taken to the app and asked for permission to connect to Kahoot!.
5. Tap Connect to confirm, and your Bitmoji will be automatically added to Kahoot!.
How to enable Bitmoji in a live Kahoot! game:
Enabling Bitmoji during live games is currently available for teachers, students, and social users. Business users won't see the option to enable Bitmoji in the settings of a live game.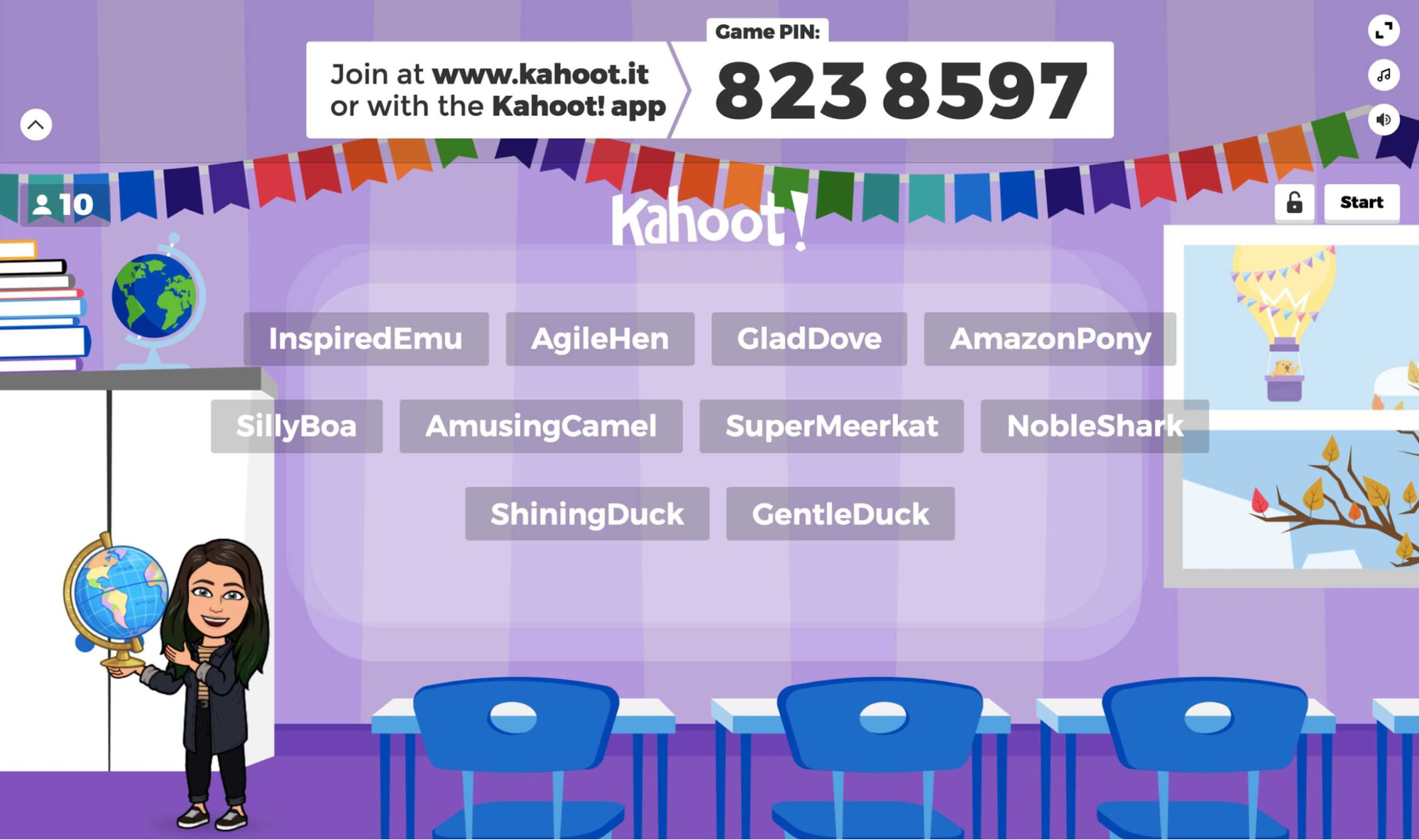 Players will need to have their Bitmoji added to their account through the app or via the web platform in order for it to show during the gameplay.
2. Open settings through the switches icon on the left side of the screen,
3. Enable the Bitmoji option.

How to use Bitmoji in Study Groups:
This option is available for students and personal users only.
The Bitmojis of everyone that has joined a Study Group game will be displayed on the game's lobby screen. They will also be displayed on the podium once the game is finished.
Choose the game you would like to add to your Study Group.
Join the game by choosing your nickname and once you are ready to play, click OK, go! Your and your friends' Bitmojis will be displayed on the lobby screen, scoreboard, and Study Group podium.