Deliver bite-sized training on any topic, anywhere, anytime! Instead of assigning each kahoot individually, you can now add a series of kahoots to a course and assign the course to participants.
Shortcuts:
Who can participate in a course
Anyone, with or without an existing Kahoot! account.
For the best learning experience, ask your learners to use the Kahoot! mobile app and create a Kahoot! account. They will be able to log in and track their own progress in addition to using the automatic email reminders to join the next part of the course.
How to check course's progress
You can track your learners' progress for each of the sessions in the Reports tab or directly through the Course tab.
A started course session can be ended anytime before its set End date.

The end date can be extended through the course sessions report summary.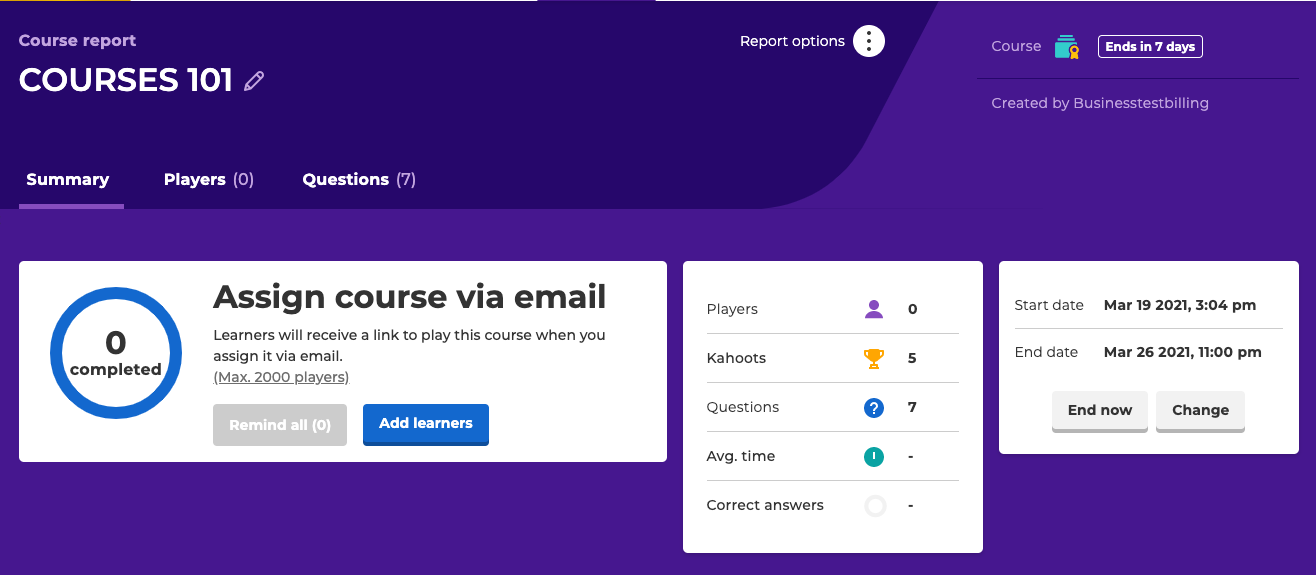 How to join an assigned course
You will receive an email invitation to join the course.

For the best learner experience use the Kahoot! mobile app and create or log into a Kahoot! account. You will be able to track your course progress through the app.



Accept the invitation by clicking

Start course.

You will then be prompt to another window where you can start the first part of the course.

After each part is completed a new invitation will be sent to your email address to continue the course.

Your progress can be tracked in the app if you were logged in through your Kahoot! account when starting the course.
Q&A
Can I add private kahoots from My Kahoots space to a course?
Yes.

If you the course you are creating is set to public, the private kahoots you add, will be turned to public as well. Pay attention to the warning at the bottom of the window. To avoid this, change the visibility of the course in settings.

If you are creating the course in a shared workspace t

he kahoot will be moved away from your

My Kahoots

space to the shared workspace

and thus become visible to your whole organization once you choose to add them to the course.

If you are on an individual plan without shared workspace access,

you can add games to courses and their location won't be altered.
Can I add more kahoots to an existing course?
Yes! However, this change will only apply to the upcoming sessions.
What is the difference between a course and a course session?
A course is a

set of kahoots

that can be assigned to a group of learners through a

session

.
How do I end my course session before the set deadline or how can I extend the deadline?
Navigate to the chosen session through the Courses tab or in the Reports tab.

Click

End Now

if you wish to end the session.

Click

Change

if you wish to adjust the end date.