To manage subscriptions purchased through our website:
Open the dropdown menu in the navigation bar, expand the section Billing and click on K!+ AccessPass.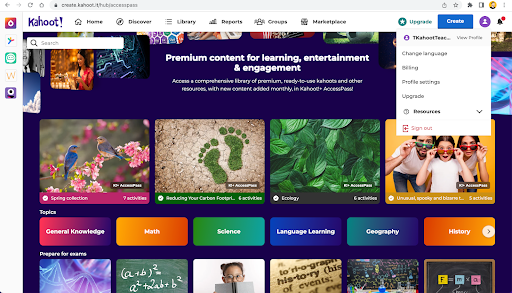 You will then be navigated to a page where you can see and manage your subscription.
On the Billing page, you can update your payment and billing information, cancel your subscription, see billing history or change your billing period.
If you cancel your subscription, it will expire at the end of the current billing period.
To manage mobile app subscriptions:
All billing matters for Kahoot!+ AccessPass subscriptions purchased through Apple or Google are handled by those companies and are subject to their payment policies.
Through the Apple App Store or Google Play Store you can cancel, pause, or change any subscriptions started through those services under your Apple or Google account. You can also update billing information and access past invoices.
Apple App Store
Google Play Store