Shortcuts:
Will I lose access to my course if the creator removes it from the Marketplace?
In general, no.
When you purchase a course from the Marketplace, you will have access for 12 months. Any courses that are removed by the creator from the Marketplace will continue to be accessible until your 12 months are up. Click here to see how much time you have left.
Creators are free to remove their content from Marketplace for future sales, but if you already purchased a course, you will have access until the 12-month period expires. If the creator removed their course, you will not be able to purchase that specific course again, unfortunately.


Can a creator update a course I have purchased?
Most courses will not be updated after you have purchased them. However, there might be some cases when creators need to update their content based on new information, like updated statistics or more relevant news.
You will receive a notification if one of your purchased courses is updated: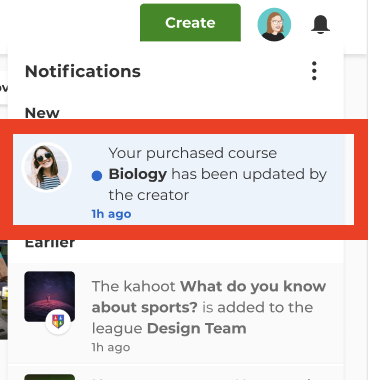 In addition, in your library you can also see when one of your purchased courses is updated. It will show a colored dot next to the course name: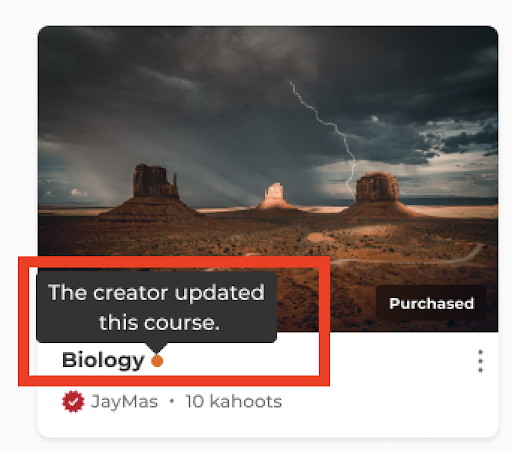 When you click into the course details page of the changed kahoot you can easily recognize which of the items were updated as indicated with an orange dot: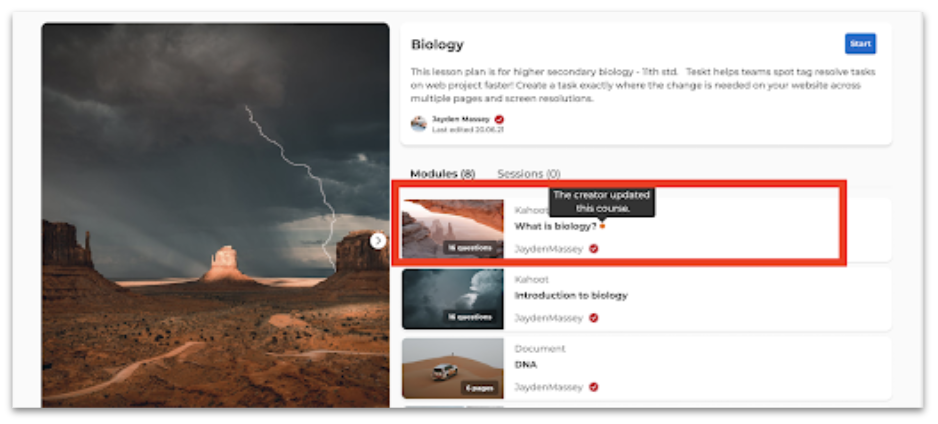 How long will I have access to th
e content I bought?
When you purchase a course on the marketplace you will have unlimited access for 1 year from the day of your purchase of the course.
If you purchased the content subscription Kahoot!+ AccessPass, you have access to monthly access or annual access, as specified during the purchase process.
Where do I see how much longer I have access to a course I bought?
On your billing page, you can see a list of all marketplace transactions with all relevant information, including the time which is left to access a course.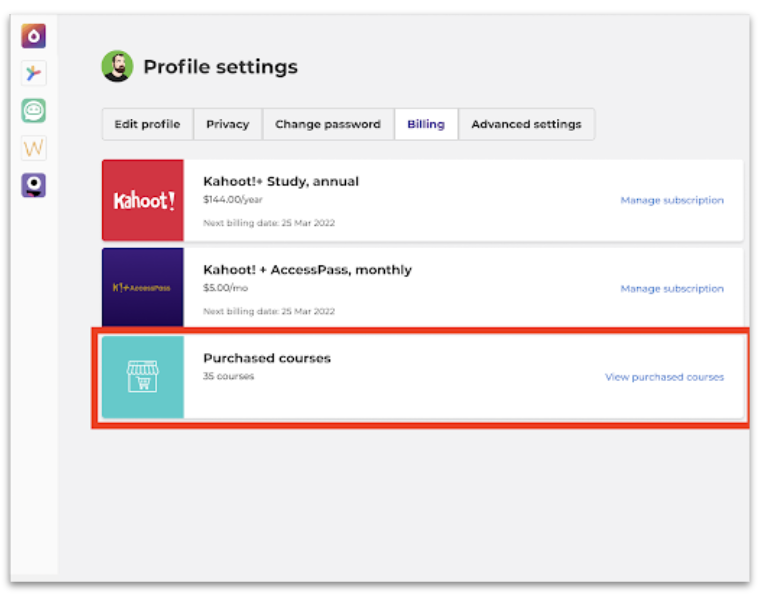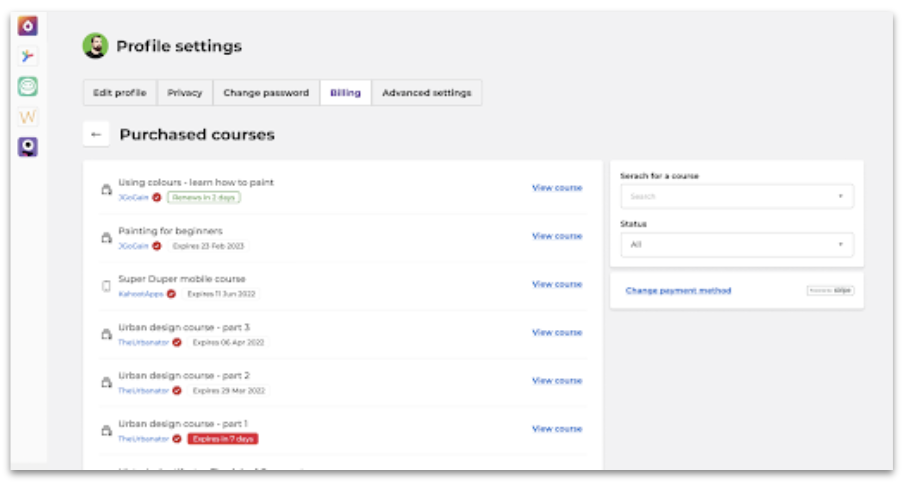 In addition, we will notify you when one of your courses is about to expire, so that you have enough time to decide whether you want to renew your access to that particular course:

How can I access game reports from my Marketplace courses?
The marketplace is where you buy access to content. The availability of features like game reports depends on your feature subscription (you can read about the difference between feature vs. content subscriptions here).
To be able to access full game reports you need a premium feature subscription. The course functionality is a premium feature that comes with the top tier subscriptions for schools, higher ed, work, and study.
You will be able to host a course from the marketplace but to access game reports you need to upgrade to one of the subscriptions that include the "Courses" feature. You can check that on the relevant pricing page: schools, higher ed, work, and study.
Can I share Marketplace content with others?
You can certainly let other people know about the courses you like, but if they haven't purchased the course or content, they won't be able to use it, unfortunately.
This is also true for content you have made available on AccessPass. If the course is listed in the Marketplace, you will not be able to share it with others even if you made the course originally.
If you have games and courses that you may want to release to the Marketplace, but you also know that there are a few people you would want to give it to for free, please consider duplicating the games/course before releasing one of them to the Marketplace. This way, you will have a version that isn't restricted by a paywall 👍