If you need help, we're here for you!
We can help with several things like…
Unexpected errors when trying to save, host, play, share, or find kahoots

Issues with

signing up

or

logging in

Questions about content in our help center articles
If you are a child account holder, please have a teacher, parent, or legal guardian contact us on your behalf for help.
It's good data privacy etiquette to never share personal information publicly. Please message us privately for anything that might require sharing detailed account information, so we can assist you.
On Twitter…
Use the "Message" button on our support handle to send us a private direct message.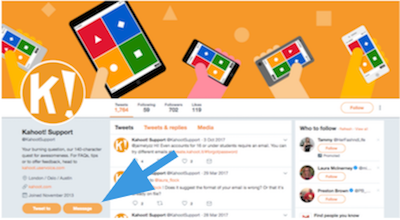 On Facebook…
Use the "Send Message" button on our company page to contact us via Facebook Messenger.

You can also email!
How long should I wait for a reply?
We strive to respond to requests for support within 24 hours. Weekends and holidays may delay a response.
Priority Support
If you are admin of a premium organization, your email inquiries will be prioritized and responded to ahead of others. Please message us from the email address tied to your account so that your inquiry is prioritized.