You can choose to study a kahoot on your own or play it with others. Tap Study to open single-player study modes, or tap Play to present the kahoot live or to assign it as a self-paced assignment.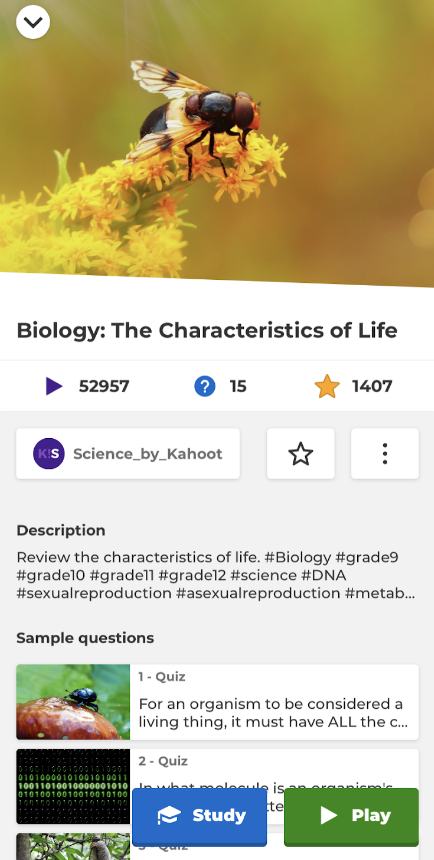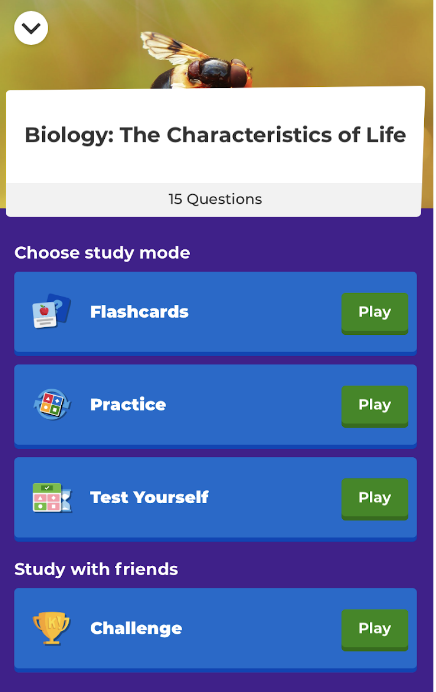 Study
Flashcards
Flashcards give an easy way to learn a new topic, memorize content, or quickly revisit a previous topic, for example, when preparing for a test. You can turn any Kahoot! game into a flashcard.
Flashcards allow you to go through a kahoot question by question, learners flip cards until they feel they've remembered all correct answers. This study mode can be particularly useful to learn vocabulary, grammar, historical dates, and more.
Practice
Once learners have aced all flashcards, they can move on to Practice mode where they play a kahoot at their own pace until they've answered all questions correctly.
Test yourself
When learners feel confident about the topic, they can test themselves in a game against AI players in Test yourself mode which adds an element of competition. As a reward, learners can unlock emotes and collect more of them as they go.
Hosting
Assign self-paced kahoots
Students can also share this kahoot as an assignment to study together with peers which is particularly relevant in times of distance learning.
Click play and choose "Assign"
Share a PIN or link with others to see who can top the leaderboard! Once players complete an assignment, they can repeat it by playing "practice games" against virtual versions of others that have completed the assignment. Read more here.
Present live kahoots
No matter where you are, you can spin up a fun trivia game with nothing more than a smartphone or a tablet! And if you have any AirPlay or screen mirroring devices nearby, up the energy by casting your game for everyone to experience. Read more here.
Preview
Kahoot! Is typically played live in group settings. However, you can play alone too! You can use our iOS/Android app to preview your kahoot on your device. Just click "Play" and choose the Preview option in the menu: