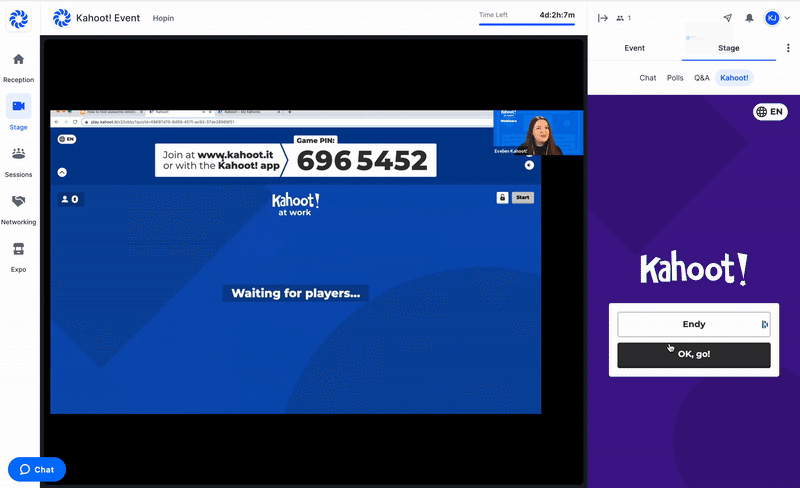 Our friends at Hopin have developed a leading virtual venue for live online events. With the integration, the entire Kahoot! participant experience happens within the Hopin platform. The host simply shares their screen, and attendees pin in and play directly within Hopin - removing the need to submit answers on a second screen or phone. It's a seamless, time-saving way to make virtual events more personal while also keeping engagement and energy levels high.
How to set up the integration
Login to Hopin, and navigate to your Hopin organization in the left-hand menu. You can then click on the 'Integrations' tab at the top of the page, find Kahoot, click the 'Enable' checkbox and hit 'Save' at the bottom of the page.

Navigate to the specific stage, session, or expo in your event.

Scroll down to the 'Integrations' section of the page, select the 'Enable Kahoot!' checkbox and save the page (you can also change the tab name if you wish):

If your event is published, you can preview your event by clicking on the 'Preview Event' button in the top right corner of the screen; you can then navigate to the relevant area for which you have configured Kahoot, and you'll see the following under the Kahoot tab:

Now that your attendees have access to the Kahoot controller in the activity panel, you can screenshare a Kahoot game, ask your attendees to input the Game PIN, and you're underway!