Over 30 million public kahoots have been created by our community. Whether you teach 1st grade, college, or train new hires, it's very likely you can find pre-made games that suit your needs. To get started, choose "Discover" in the top navigation bar.

Search
You can use the search bar near the top of the Discover page. You can type a keyword for a list of matching kahoots. Or to see a list of kahoots someone's made, type in their username.
Things to know about searching...
You can only see

public kahoots

. Private kahoots

must be shared

with you and will be found under "Shared with me" on your My Kahoots page.

See "

Featured

" instead of "Find Kahoots"?

Child account holders are not able to search

.  You can browse "featured" kahoots that we've vetted as both appropriate and awesome.

Keyword and username terms are not case-sensitive, but operators are.

Filters and sort options display after beneath the search bar AFTER search results appear.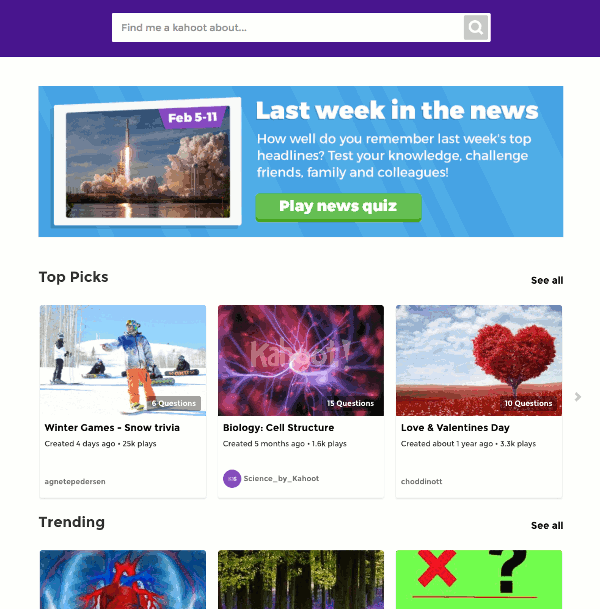 Filters - You can filter results by common subjects, as well as grade level, creator's role, intended audience, kahoot type, and language.
Sort by - There are three sorting options that let you prioritize what is shown at top:
Most Relevant

- what we think is an ideal mix of factors including popularity and quality.

Most Played

- those with the most plays.

Highest Quality

- this considers many factors (for example, average play time and how many times each kahoot was favorited).
Operators - You can use the following to create custom filters within the search bar.
AND

: finds kahoots that include two keywords/phrases (Ex: math AND science)

OR

: finds kahoots that include either of two keywords/phrases (Ex: math OR science)

*

: searches an unlimited number of characters in place of this symbol (Ex: *ath will find "math" as well as "telepath" and "wreath")