Shortcuts:
What is the difference between Kahoot!+ AccessPass and Marketplace?
What content do you offer?
Who are the content creators?
How do I find a marketplace course?
Discover page
Kahoot! Marketplace page

Kahoot!'s new marketplace allows Verified Creators and publishers to monetize their high-quality content directly on the Kahoot! platform. All users can buy content offered for sale on the marketplace and choose from a comprehensive library of high-quality courses on a wide range of topics from general trivia to history to mathematics.
Kahoot! Marketplace is a content subscription. You can read about the difference between content and feature subscriptions here.
The Kahoot! Marketplace will be gradually rolled out allowing more creators and offering more courses on the platform.
What is the difference between Kahoot!+ AccessPass and Marketplace?
Kahoot!+ AccessPass is a subscription (monthly or annual) that provides the subscription holder access to a collection of games and content from Kahoot! as well as our respected educational partners. The Marketplace provides an even larger variety of courses and games, and instead of a subscription, you purchase access to a specific course or game directly.
Simply put:
Kahoot!+ AccessPass is the "all you can eat" buffet loaded with greatness, and Kahoot! Marketplace is the à la carte offering where you can access separate courses based on your requirements.
What content do you offer?
On Kahoot!'s marketplace you can find complete courses and lessons for all ages, on a wide range of topics and in multiple languages. Trusted creators are constantly adding new resources to the platform, which include kahoots, interactive tasks, warm-ups, discussions, videos, homework assignments and more, all wrapped into ready-to-use courses and lessons that support deeper learning and engagement. The content covers a wide range of topics for all ages.
Who are the content creators?
Content on Kahoot!'s marketplace is created by selected Verified Creators who offer trusted, high-quality content. Many are educators and subject-matter experts, and know how to create learning experiences that are fun, engaging, and meaningful. All of this is reflected in the content they create and offer on the marketplace.
The first group of creators to offer their content on the marketplace have been pre-selected and are supported by a new creator fund, where Kahoot! offers license payments for resources, as well as free access to Kahoot!'s top-tier features and royalty-free donations directly on their Verified profile page. Kahoot!'s marketplace is open for more creators who meet the requirements and will expand and evolve as we facilitate for even more Verified Creators to join and provide their content and courses. Kahoot!'s marketplace is also available for well-known publishers to create courses that cover topics within their field, allowing teachers, trainers, and coaches access to learning experiences from well-established experts.
How do I find a marketplace course?
After you log in to your Kahoot! account, you can access all the marketplace content on the web and in the Kahoot! App. The content can be found through search, on the Discover page, or on the Marketplace page. The content is always marked with a price tag to make it easy for you to differentiate it from other content.
The price of the course shown on the course cover image: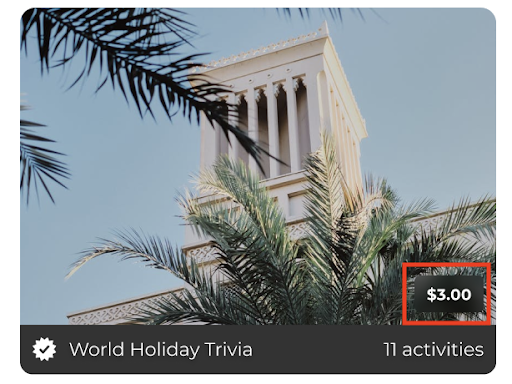 A "purchase" tag shown on the kahoot cover image: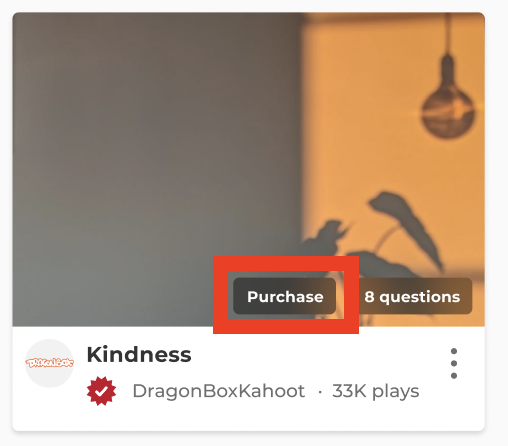 The Discover page shows marketplace content in its own row, in addition to some courses that are presented together with collections and courses from our free library and from Kahoot!+ AccessPass. You can click on "View all" to see all the content available in Kahoot!'s marketplace.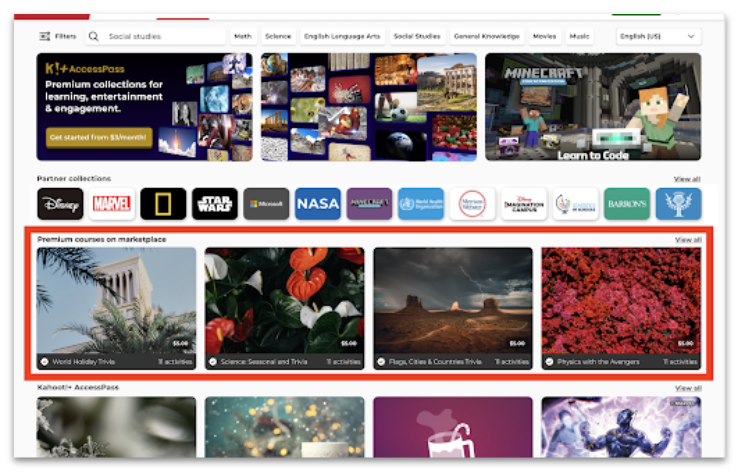 If you only want to see the content which is part of the marketplace, you can visit https://create.kahoot.it/hub/marketplace. Here you can scroll through the premium content or filter by specific topics.