Notice - October 11: Challenges do not currently support the 2000 points option. A mobile app update will be launched in the next week or two adding support for this.
When you add or edit any question that awards points, look for this nifty toggle: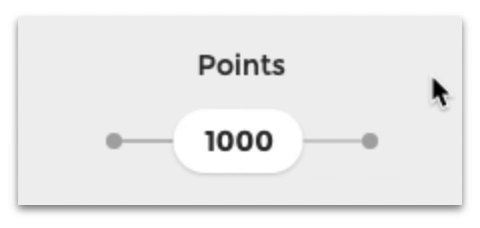 By default, questions offer up to 1000 points when a player responds correctly. You can toggle this to 0 or 2000 if you'd prefer.
How points work
Points are awarded based on speed of answer. This is how points are calculated:
Divide response time by the question timer. For example, a player responded 2 seconds after a 30-second question timer started. 2 divided by 30 is 0.0667.
Divide that value by 2. For example, 0.0667 divided by 2 is 0.0333.
Subtract that value from 1. For example, 1 minus 0.0333 is 0.9667.
Multiply points possible by that value. For example, 1000 points possible multiplied by 0.9667 is 966.7.
Round to the nearest whole number. For example, 966.7 is 967 points.
For math wizards, this is expressed as rounding:
(( 1 - (( [response time] / [question timer] ) / 2 )) [points possible] ).
Answer streak bonus points
Players are also awarded bonus points for consecutive correct answers. Here are the answer streak bonuses:
Answer Streak 1:  0 bonus points
Answer Streak 2: 100 bonus points
Answer Streak 3: 200 bonus points
Answer Streak 4: 300 bonus points
Answer Streak 5: 400 bonus points
Answer Streak 6: 500 bonus points
Players can reach answer streaks higher than 6, but will only be awarded 500 bonus points thereafter. An incorrect answer will reset their answer streak to 0.
When points are toggled to 0 - players can increase their answer streak but will not be awarded bonus points.
For example, a player answers a 0 points question correctly, increasing their answer streak from 1 to 2 but they receive 0 bonus points. The next question awards up to 1000 points. The player answers correctly, increasing their answer streak from 2 to 3, awarding 200 bonus points.
When points are toggled to 2000 - answer streak bonus points are not doubled.
For example, a question with a 20-second timer awards up to 2000 points. A player answers correctly 2 seconds after the timer started, increasing their answer streak from 2 to 3. The player is awarded 1900 points and 200 bonus points.