To find out how to assign kahoots via our mobile app, please see this article:
Assigning a kahoot offers a "learner-paced" experience, meaning that participants or learners move question-to-question at their own pace as opposed to progressing in step with everyone else. Questions and answer alternatives are displayed on each learner's device. The host does not actively present the kahoot in real-time. They simply set a deadline and share the game PIN or game link with learners. Learners must submit a response to every question before the deadline.
Accessibility tip for blind or visually-impaired learners: Since all text displays on the learner's device when they play an assigned kahoot, they should be able to use a screen reader on their device to join and answer questions.
This article covers...
Tech requirements
To assign a kahoot, you should have the following:
A desktop, laptop, tablet, or mobile device -

make sure a

supported web browser

or our

mobile app

is installed.

An internet connection -

be sure to

test your venue's internet

at least a few days before any major event. Assigned kahoots are less reliant on the internet than live games. But firewalls may block important URLs, preventing access to assigning or playing kahoots.
How to start an assignment
To assign a kahoot, you need to generate a PIN or link that you can then share with intended players.
To assign a kahoot in a web browser, sign in at kahoot.com, locate a kahoot and click the Assign button.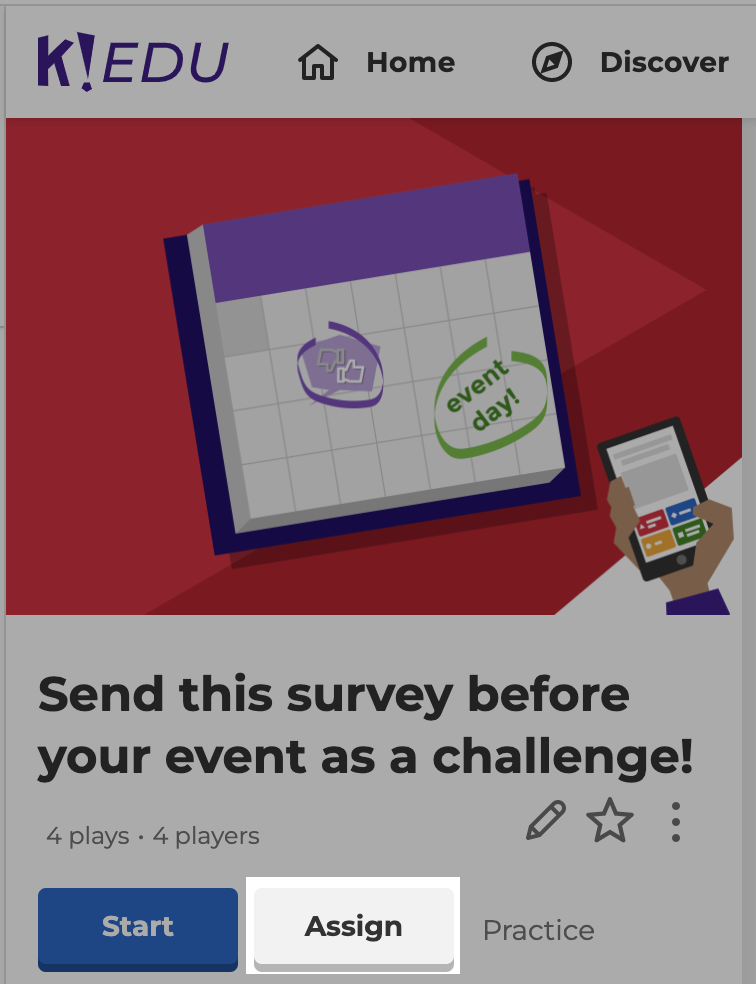 After you click the "Assign" button, you can set an expiration date and time as well as set game options.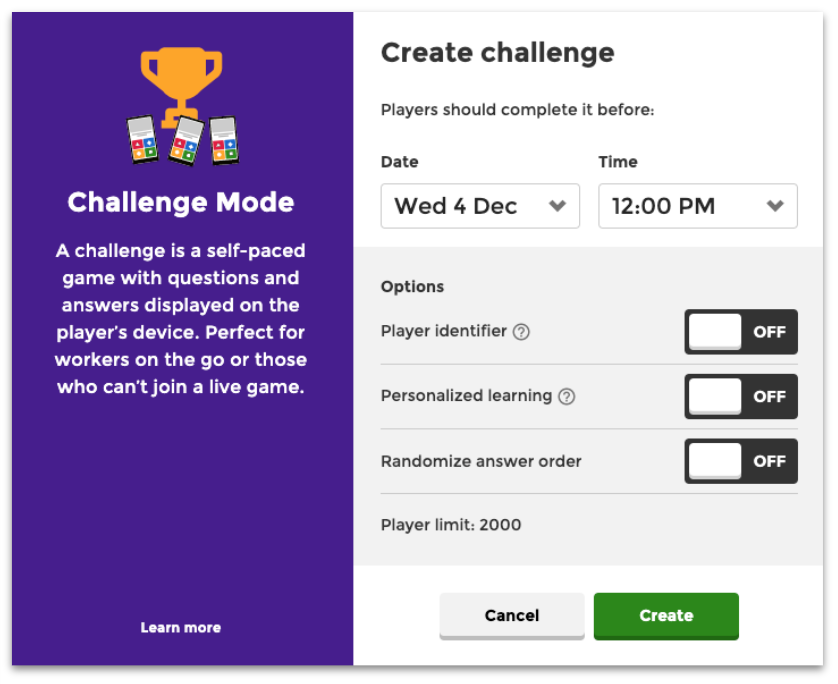 Date and time: Date can be set up to 28 days into the future. Time is set to a specific hour (not minute or second).
Game options: These modify gameplay before, during, and after your assignment.
Player identifier

is a new feature that allows tracking player performance across multiple games. Once you or your team have hosted multiple games with player identifier on, you'll be able to combine reports into one.

Learn more about it here.

Personalized learning

uses proven learning methods such as spacing and testing to help learners retain information and master content. After a live game, our Android or iOS mobile app will encourage players to repeat questions they got wrong.

Learn more about it here.

Randomize answer order

randomizes how answers are arranged on the screen.

Friendly nickname generator will choose nicknames for players. Players click or tap a "Spin!" button to generate a nickname. They can spin up to three times.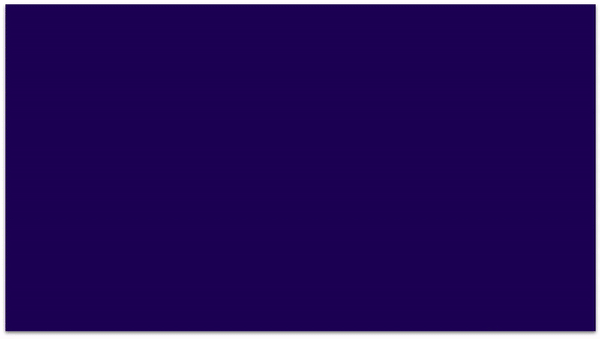 Click the "Create" button when you're ready to get a shareable PIN or link.
Want to start multiple assignments with one kahoot? You can start more than one assignment with a single kahoot. No need to wait for one to end before starting another.
How to share an assigned kahoot
After starting an assignment, you can go to your account's Reports page to access the assignment's game report. Available sharing methods may vary based on your account type and subscription plan.
If you see the Add learners button, you'll be able to share via a link, QR code, or PIN or assign it directly to players via the prompt that shows after clicking the button.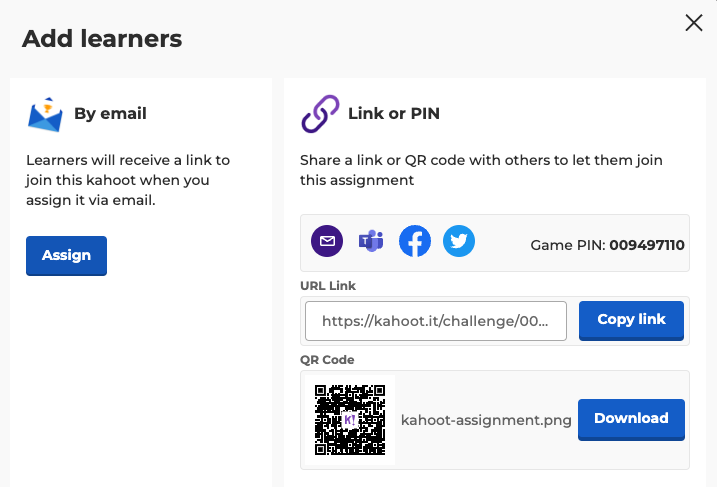 Otherwise, you'll see the PIN, link, and other ways to share directly on the report.

How to check on an assigned kahoot
Curious how many have joined your assignment, or how well they're performing? Need to locate the PIN or link again? You can check these anytime from your Reports page.
To check on an assigned kahoot in a web browser, sign in at kahoot.com, then click "Reports" at the top of the screen. There you will see all of the reports available to you. Click on the "Assignments" tab to filter out all the games that were assigned as Live Games.
Click the assignment's title to check on player performance.

An in-progress assignment's report will show you how much time remains before the assignment ends, as well as its PIN, link, and direct-share options. You can also see how many players have started your assignment, their player identifiers, how many have completed one or both steps in personalized learning, and more.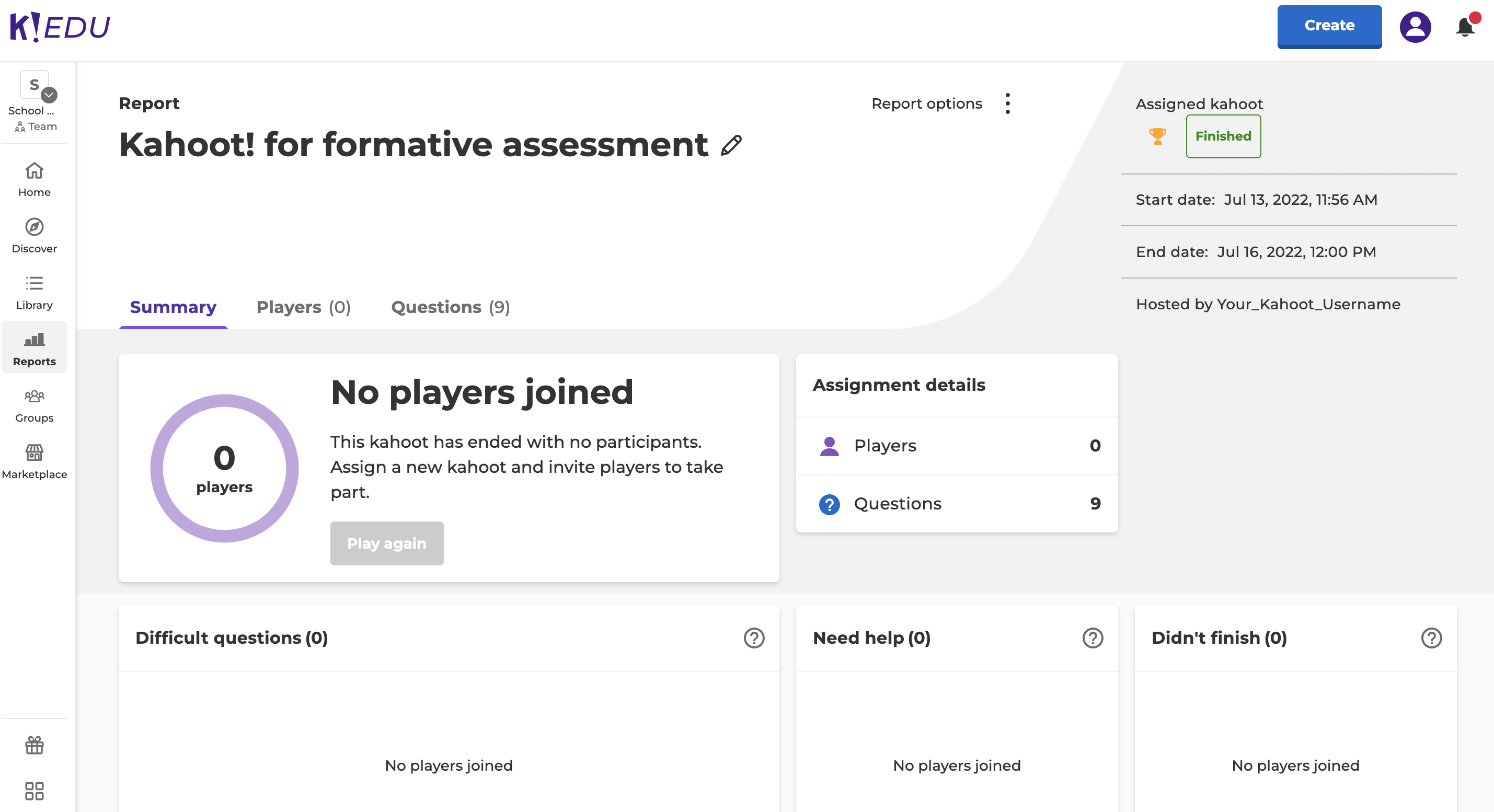 Can players resume the assignment with their progress saved?
Players playing via a browser can leave the assignment before the end and come back to finish with their progress saved at any time through the Assigned to me section. It is available only when their subscription offers this functionality, the host assigned the game to their email and they are members of the same workspace as the host.
Alternatively, players can play in our mobile app. Progress in the mobile app is always saved and can be resumed through the Active section on the Home screen. Players do not need to be logged in to have their progress saved, they just need to use the same app on the same device to resume the assignment.
It's not possible to rejoin an assignment with the same nickname, even if the player was removed from the assignment's report.