Being part of a team unlocks several amazing features in Kahoot!. To access them, you need to create a team by signing up for a subscription or joining a team someone has already set up. A team can only have one owner. If you're currently an owner, admin or a trainer on a team, you can join a new team by accepting an invite to a different team space.
Join a team space
If you're trying to join a team that's already been created by someone else, the owner or an admin must first invite you to their team. You should then receive an email invitation to join their team. Accepting will let you join with an existing basic account or create a new account. Invite links are one-time use, valid for up to 7 days.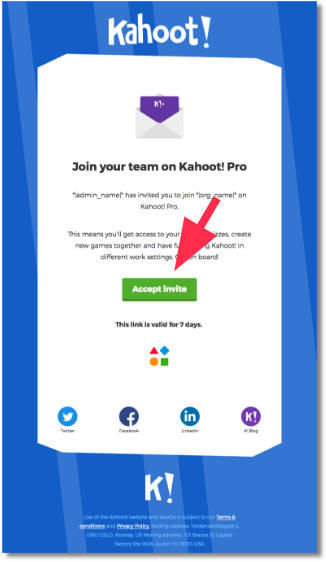 Set up a team space
To create and manage your own team, firstly create an account. After providing account details, you'll be taken to a pricing page showing subscription options. Choose the plan that best suits your needs.
Next, you'll be prompted to set up a billing profile. We accept debit or credit cards from Visa, Mastercard, and American Express. We will charge your card to start your subscription and when it auto-renews each year (cancel anytime to prevent auto-renewal).
Complete the billing information form to create your own team.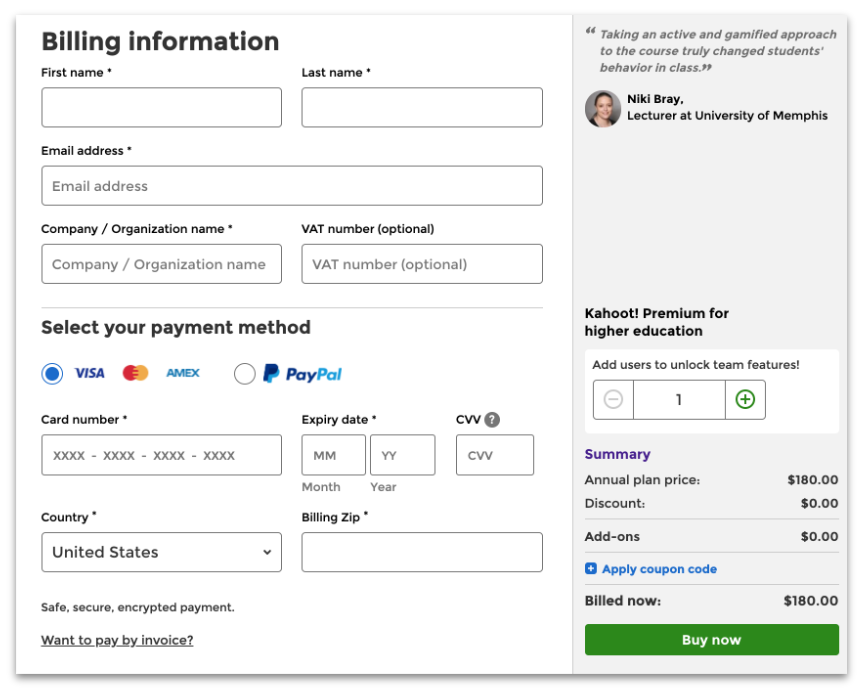 Below are some details on each field:
First and last name

: These should match what's on your card.

Email address

: We'll send invoices to this email whenever your card is charged.

VAT

: This tax ID will appear on invoices, if provided.

Card Number, Expiry date, and CVV

: These should match what's on your card.

Country and Postal code

: These should match what your card provider has on file.

Users

: If you know you're going to

invite others to your team

, you can purchase licenses for them now so that all licenses are purchased on one invoice. Otherwise, you can add/remove additional licenses later on as needed.