Reports allow you to get actionable insights, reinforce important knowledge, fine-tune content and instruction based on questions a group found difficult, and identify learners who need help.
You must be signed in to your account when hosting a live game for reports to be accessible from your Reports page in the future. If you're not signed in, you'll be able to download a report via the endgame screens but will not be able to retrieve a report after the game session is closed.
Learn how to access reports from past games here.
Reports are broken down into 4 sections:
Before we look in-depth at each section, let's cover some report options.
Report options
Let's have a look at the following options.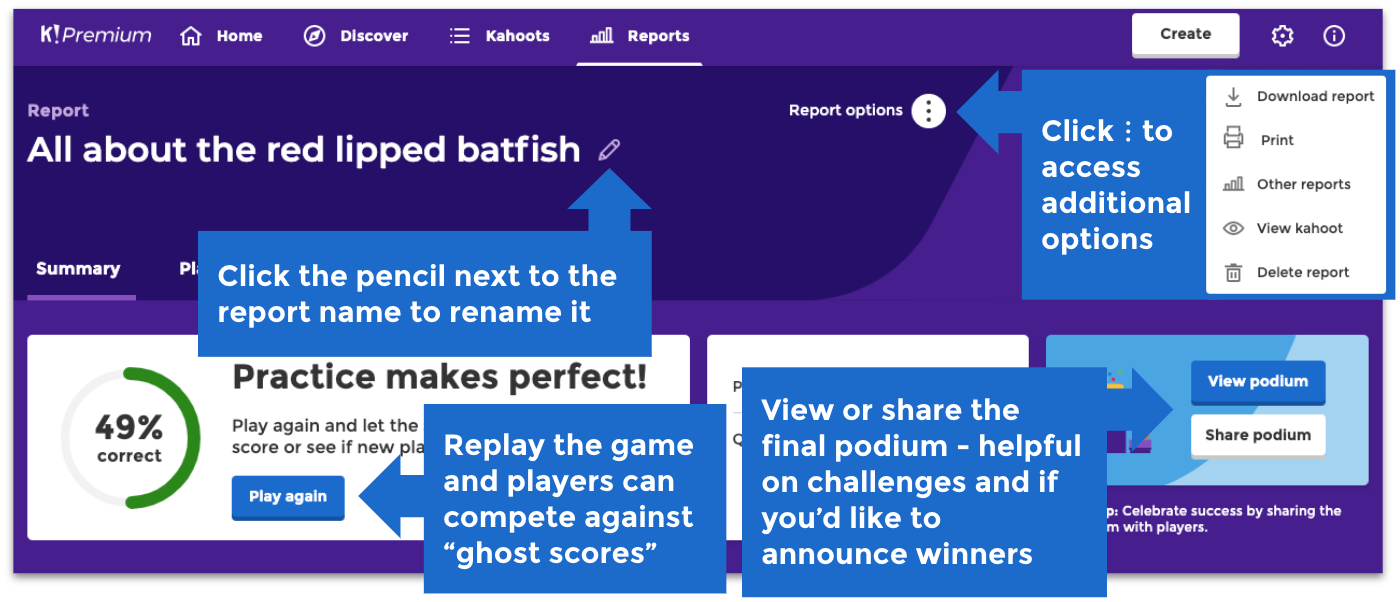 Rename report
Click the pencil next to the report name to rename it - this will allow you to organize reports better if you played the same kahoot several times.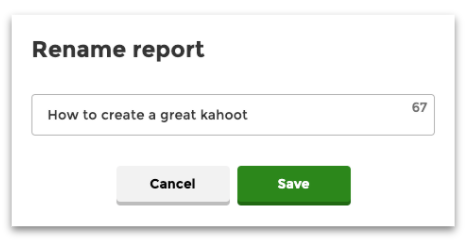 Download report
Download a report as a .xlsx spreadsheet.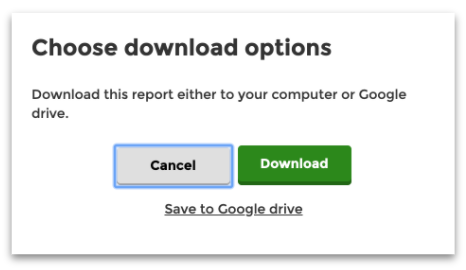 If you download it to your device, it may take up to 60 seconds to download the file (depending on file size).

If you want to save to Google drive, make sure you're signed in to the right account at

https://drive.google.com/

. Our platform will save to the Google account you're signed in to.

If the report contains more than 40 questions, the report will only include "raw" data which you can assess by creating your own tables, charts, and pivots.
Print report
Access a printer-friendly version of this report that includes a leaderboard and question summary.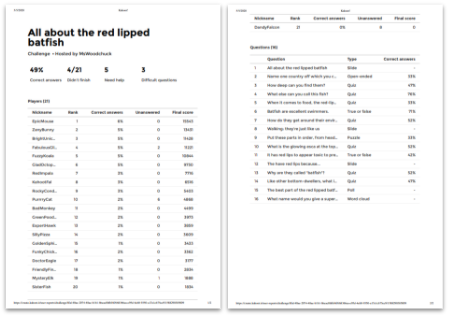 Other reports
View a list of other reports on the same kahoot.

Delete report
Deletes the report from your list of reports.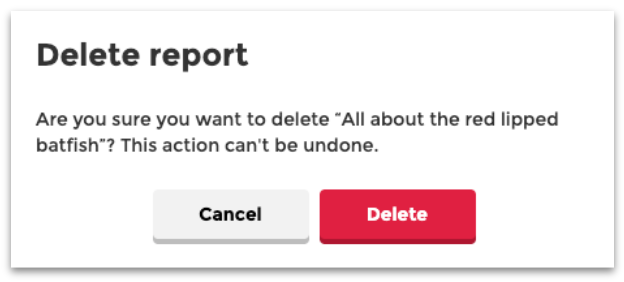 Play again
Play the kahoot again. You can choose if players compete against previous "ghost scores" from this report.
View and share podium
View the final podium - especially helpful for challenges. You can share a link to a challenge's podium with others to announce winners remotely.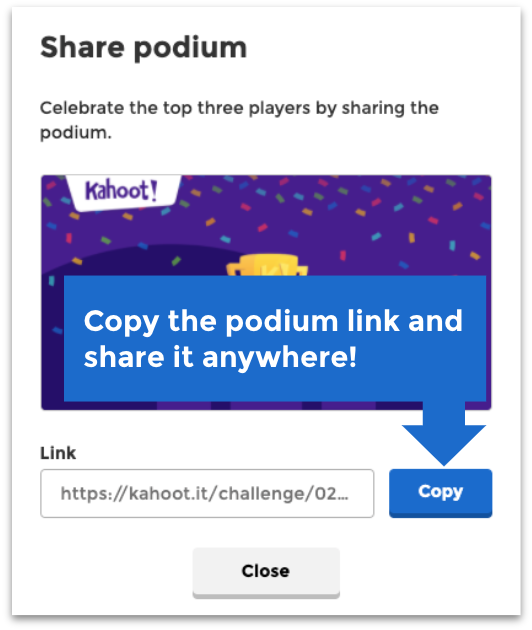 Summary
Here's what you can see in the Summary section of a previous live game or challenge.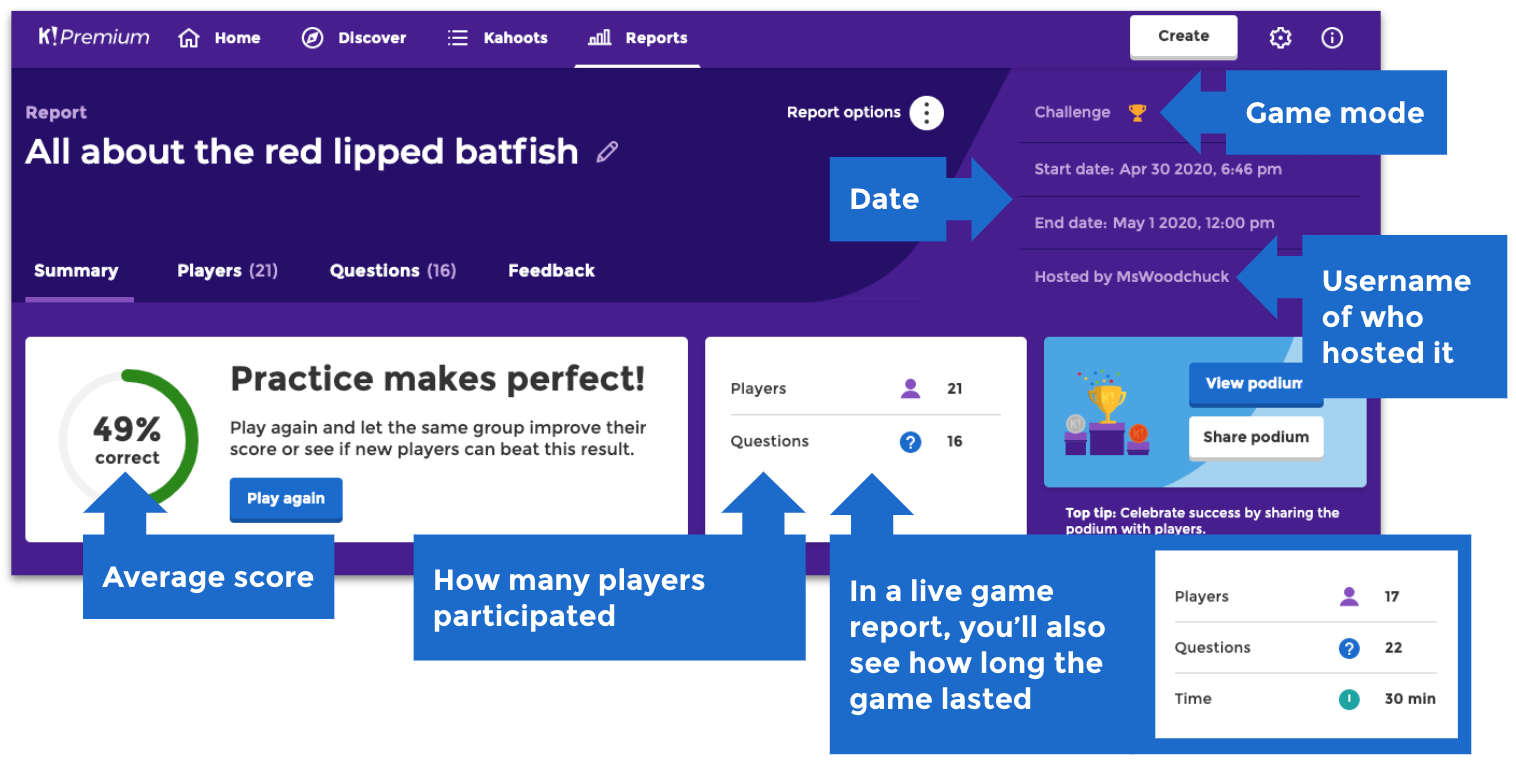 Here's what you can see in the Summary section of an active challenge.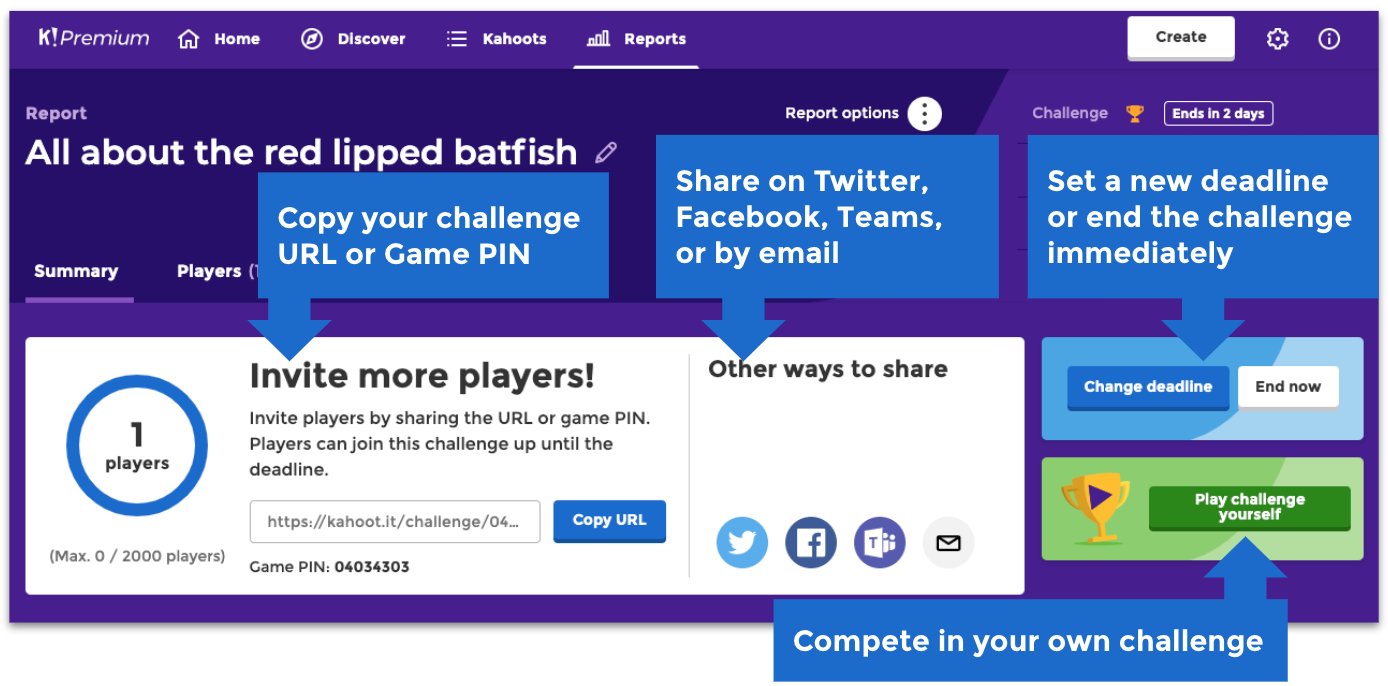 The bottom three sections give you valuable actionable insights.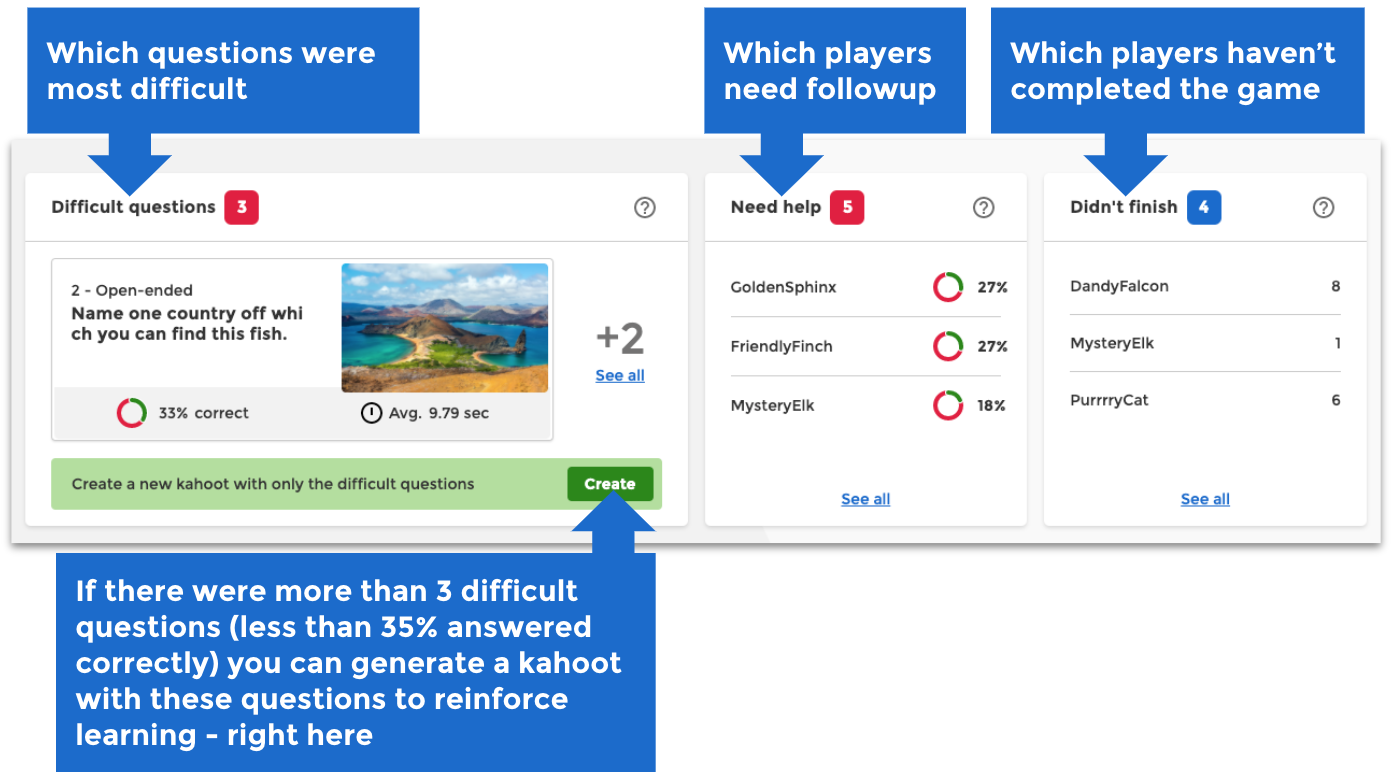 Players
Click on "Players" to see a detailed leaderboard with correct answers (%), unanswered questions, and final score. You can click on a player to view their results. You can also click ⋮ on a player to remove them.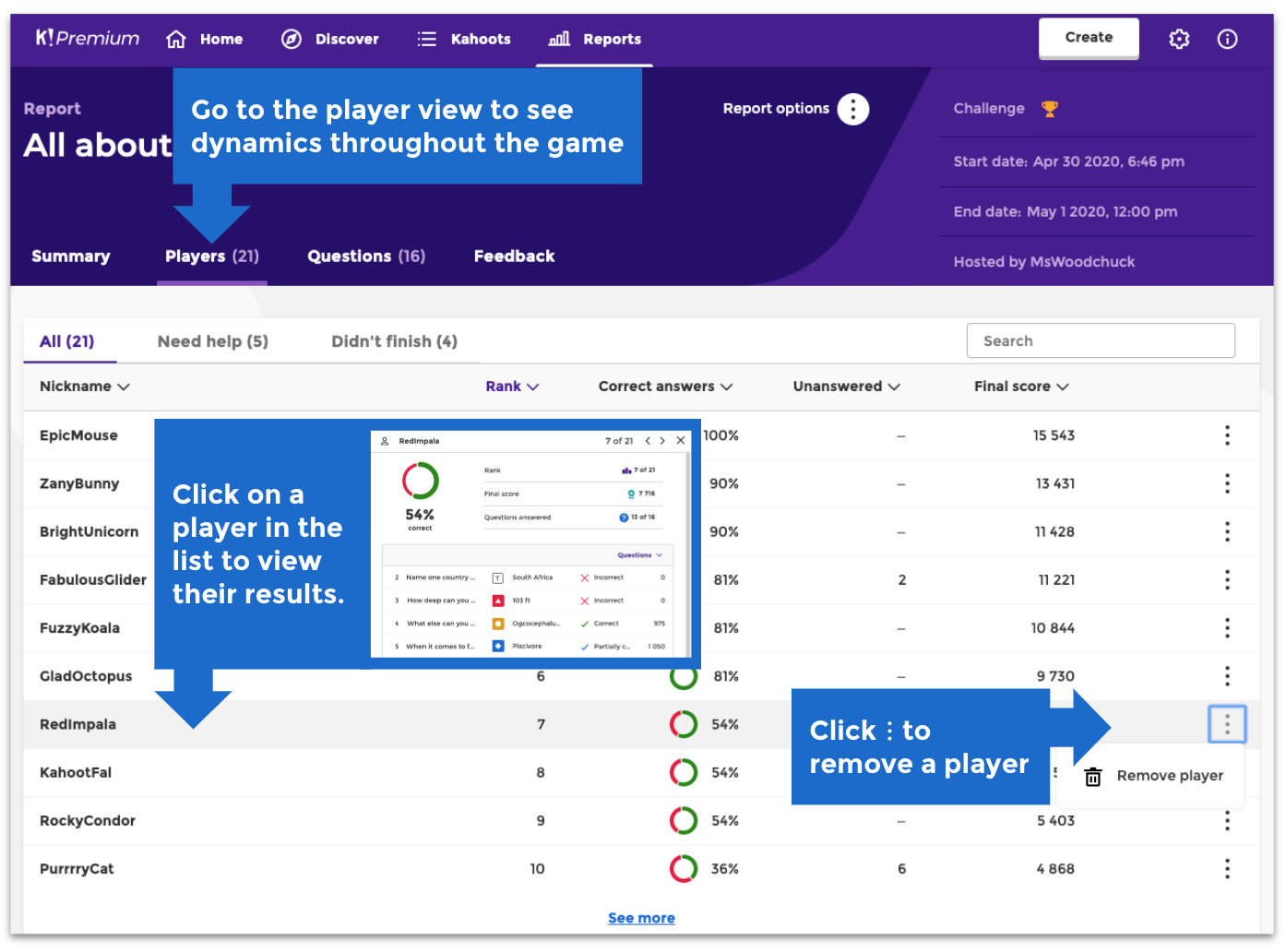 Questions
You can look at analytics question by question to see how the entire group performed.
Feedback
At the end of a live game, click

to send out a standard feedback survey to players. Responses will be aggregated here.