As you edit your kahoot, the creator will auto-save changes you make. If, for any reason, you exit the creator (e.g.: browser closes or computer crashes), changes should automatically save as a draft. Saving is indicated next to your kahoot's title, in the top navigation bar.

At the top-right of the kahoot creator (to access kahoot creator click "Create" or "Edit" next to the kahoot in "Kahoots" section) are three buttons: Preview, Exit and Done.

Preview
This shows you what your kahoot will look like during a live game. At the bottom of the screen, you can "exit preview" to go back to editing, switch to a different question, or make the preview full screen.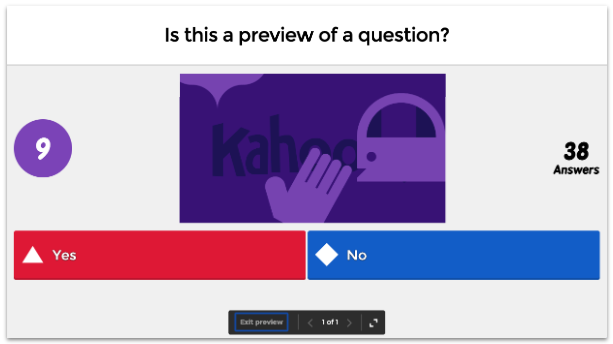 Exit
This will allow you to discard or keep changes you've just made.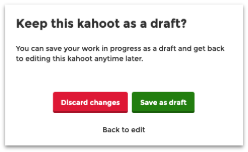 Discarding changes will erase all your recent work, reverting your kahoot back to how it was the last time you clicked "Done".

Keeping them will create a draft version of your kahoot under "My Drafts"

.

Drafts are not playable

as live games and assignments, though you can still play your kahoot without drafted changes if the previous version was saved.
Done
This will save all changes to your kahoot, making them playable in future live games and assignments.