Unless you're a child account holder, you can share your kahoot with others in several different ways. You can share public kahoots you find on the Discover page, as well as your own kahoots on your Kahoots page.
Share link
A share link offers quick access to the kahoot's details page.
If the kahoot is

public

, then no sign-in is required to view the details page. Services like Facebook, Twitter, and Slack will preview your kahoot's title, description, and cover image when you post this link.

If the kahoot is

private

, then sign-in will be required. Everyone except yourself will be denied access. You and other Kahoot!'ers will not have access to each other's reports.

If the kahoot is

visible to your team only

, then sign-in will be required. Everyone except you and your team members will be denied access. Live game and assignment reports will be visible to all team members in the team space list on the Reports page.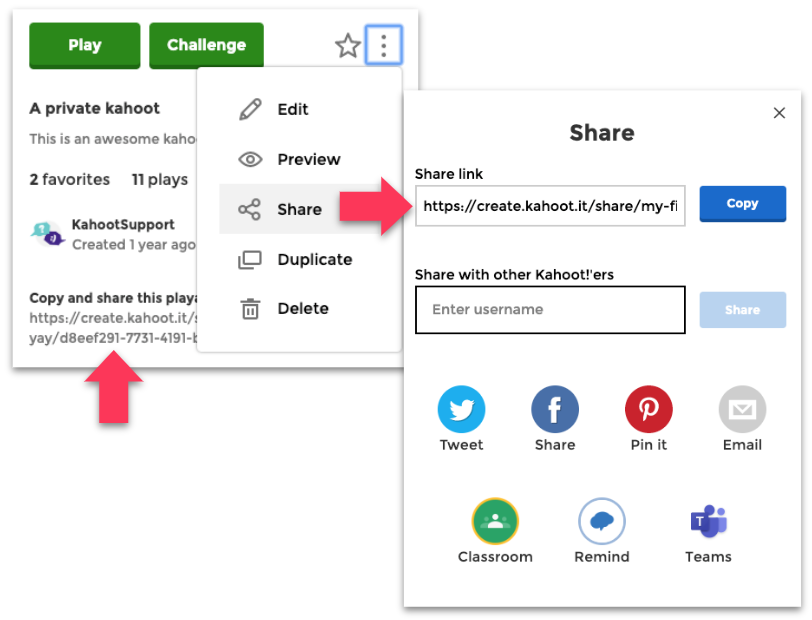 Share with others
Sharing a kahoot with others makes it visible on their "Shared with me" list on the Kahoots page. The shared kahoot doesn't need to be visible to everyone.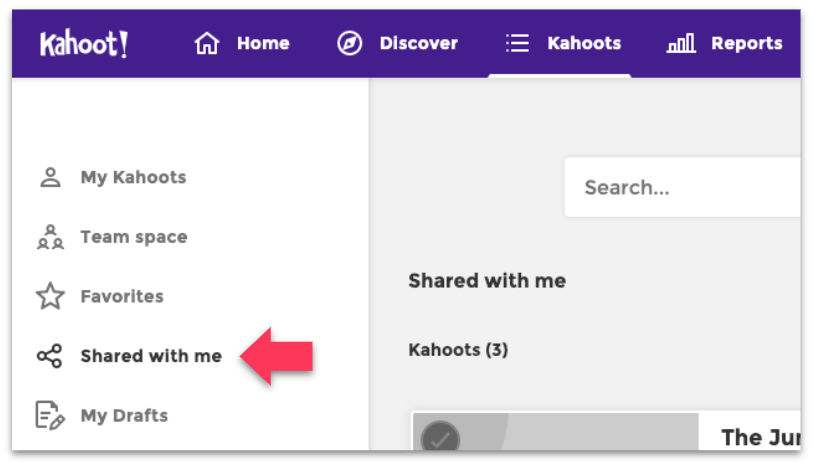 To get started, simply open the kahoot's options menu [ ⋮ ] and choose "Share". In the "Share with other Kahoot!'ers" box, type the username of a person and choose their name from the list that appears underneath. You can share it with multiple usernames at once. Click "Share" when you're ready to share your kahoot.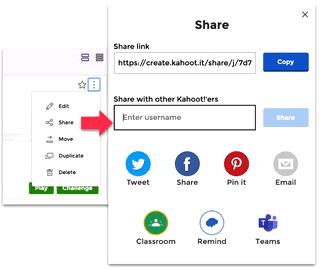 CAUTION: It's not possible to unshare kahoots. If you'd like to unshare a kahoot, you'd need to delete it. If this is necessary, you can duplicate it first. Duplicates aren't shared with anyone.
Social media, email, and collaboration platforms
You can quickly share a kahoot on Twitter, Facebook, or Pinterest with a preview populated with the kahoot's cover image, title, and description. You can also share via email, Google Classroom, Remind, or Microsoft Teams. Simply open the kahoot's options menu [ ⋮ ] and choose "Share" to find these options.