After you've created or duplicated a kahoot at kahoot.com, you can access our kahoot creator for editing. For guidance on the creator in our mobile app, read this article instead.
Looking for jumble, survey, discussion kahoot types?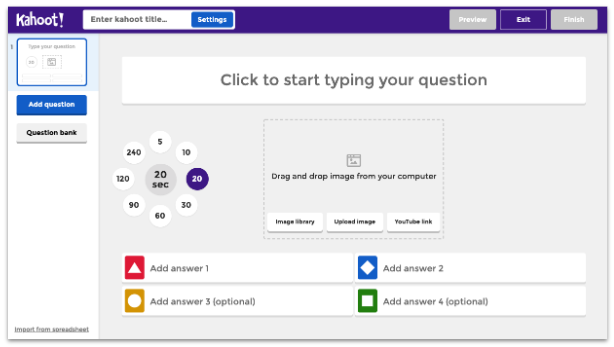 This article covers:
How to edit an existing kahoot
To edit an existing kahoot of yours, simply click the options button [ ⋮ ] and choose "✎ Edit".
You can only edit kahoots you've

created or duplicated

, found in

My Kahoots list

.

As an admin or member of a team (subscription required), you and other members can edit each other's' team space kahoots.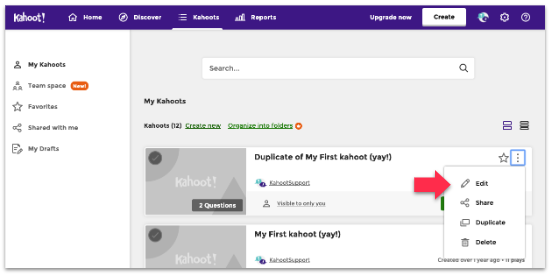 Preview, Exit, Finish, and auto-saving
At the top-right of the creator are three buttons: Preview, Exit and Finish.

Preview

shows you what your kahoot will look like during a live game. At the bottom of the screen, you can "exit preview" to go back to editing, switch to a different question, or make the preview full screen.
Exit

will allow you to discard or keep changes you've just made. Keeping them will create a draft version of your kahoot

under "My Drafts"

. Drafts are not playable in live games and challenges, though you can still play your kahoot without drafted changes.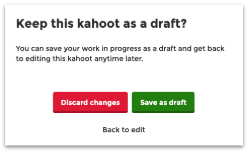 Finish

will save all changes to your kahoot, making them playable in future live games and challenges.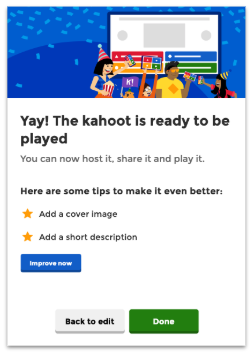 Auto-saving: If, for any reason, you exit the creator (e.g.: browser closes or computer crashes), changes are automatically saved as a draft. Saving is indicated next to your kahoot's title, in the top navigation bar.

Unless you chose to Discard all changes, you can always edit your kahoot at a later time to Finish drafted versions.
Kahoot settings
At the top of the screen, click your kahoot's title or the settings button to access the Kahoot summary screen.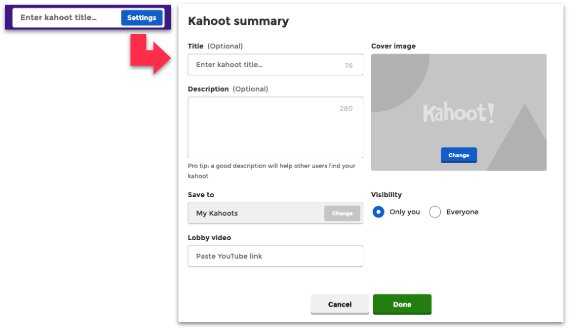 Here's more detailed info about each setting.
Title: A meaningful title that accurately describes what your kahoot is about will help other users find it in search results and understand if it's relevant. A title can be up to 95 characters.
Description: Our Discover page's search algorithm weighs keywords found in kahoot descriptions higher than keywords found in questions. You can also add a # in front of words to highlight them as closely related to your kahoot (for example, "A #trivia quiz about #popular #music"). Descriptions can be up to 280 characters.
Cover image: Adding a cover image is a great opportunity to give more context to your kahoot. Kahoots with cover images are also boosted slightly by our search algorithm, making them more likely to be found by others than kahoots without a cover image. You can upload an image from your computer or from our image library. Images need to be:
PNG, JPEG, or GIF format, in RGB color mode

No larger than 5MB or 3264x3264 pixels
Save to: If you are an admin or member of a team space (subscription required), you can choose which personal or team folder the kahoot is saved in. You can also move a kahoot by changing where it's saved to. Kahoots will have different visibility options based on if they're saved somewhere in your personal "My Kahoots" list or your team space.
Visibility: As long as the kahoot is saved under My Kahoots on the Kahoots page, you can make the kahoot visible to everyone or to only you. Kahoots saved in your team space only have the "team only" visibility option.
Everyone

: your kahoot will appear in search results on the

Discover

page. Services like Facebook, Twitter, and Slack will preview your kahoot's title, description, and cover image when you

post a share link

.

Only you

: your kahoot will not appear in search results on the

Discover

page.

Team only: your kahoot will only appear in your team space, and only team members have access to it (subscription required).
Lobby video: Paste a YouTube video URL (https://www.youtube.com/watch?v=ig4_PhHmE2Y) into this field and the video will play full screen in the background while players join your game. This can be just a bit of music, some comedic relief, or an instructional video that provides answers to questions they'll see.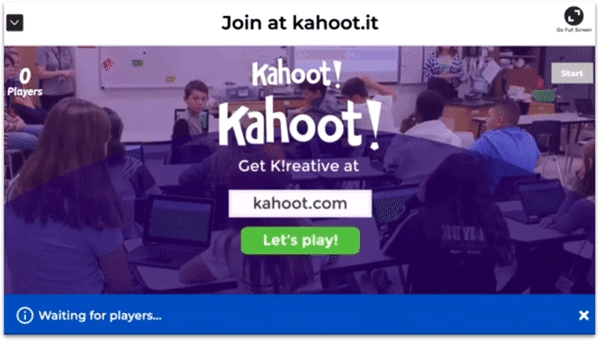 Adding and editing questions
Once you've started creating a kahoot, you can navigate between questions and add new ones in the left-hand sidebar.
Questions you've already added are listed at the top of the sidebar. You can move, duplicate, or delete questions from this list.
Under your question list are buttons you can use to add new questions. You can create new questions from scratch, add them from other kahoots, import slides from a presentation, or import quiz questions from a spreadsheet.
How to move, duplicate, or delete questions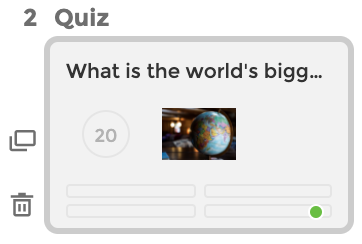 Click on a question to edit it.
Drag a question to place it above or below another question.
Click the button to duplicate a question.
Click the button to delete a question.
"Add question" button

Click on this and choose what type of question you want to add. You can add up to 100 questions per kahoot. Read this article to learn about the different question types.
"Question bank" button

Click on this and start typing a question or keyword that you want to find a question about. After results are shown, you can toggle between "Show all" (all public kahoots) and "My questions" (only kahoots shown on your Kahoots page). You can add multiple questions at once by clicking the "Add" button to the right of each question. Question bank questions can be edited just like a question created from scratch.
The question bank is not available for students as a way to encourage individual research and creative work as they're creating their own kahoots as a part of classroom or homework assignments.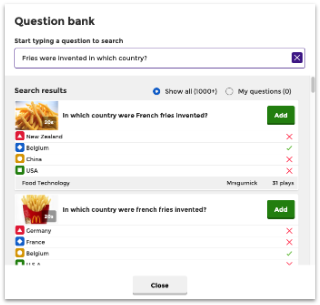 "Import slides" button

Click on this to import slides from a PowerPoint (.pptx or .ppt), KeyNote (.key), or Adobe PDF (.pdf) file. The file mustn't be larger than 80MB. Please note that a single kahoot can't exceed 100 questions (slides count as questions). With a Premium+ subscription there are no limitations on how many consecutive slides you can add to your Kahoot! game.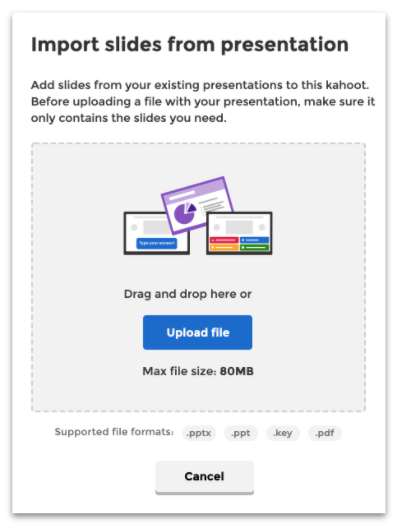 "Import spreadsheet" button

Click on this to import quiz questions from a spreadsheet. Questions must be in our .xlsx template with a max file size of 1 MB. You can use MS Excel, Libre Office, Google Spreadsheets or Numbers to add questions. Please note that a single kahoot can't exceed 100 questions.