Go to kahoot creator (click "Edit" next to kahoot in "Kahoots" section or "Create"), click your kahoot's title or the settings button at the top of the screen to access the Kahoot summary screen.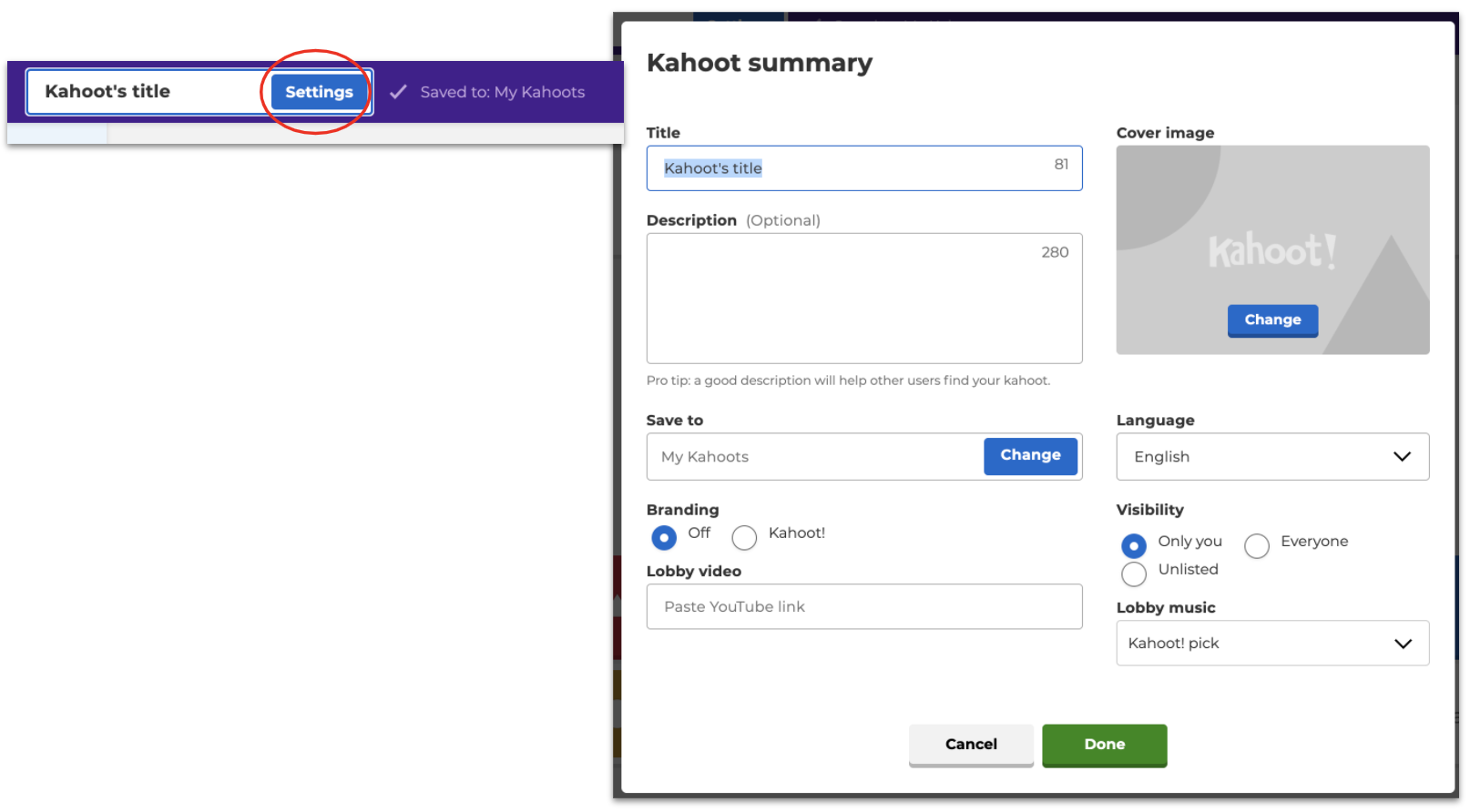 Here's info about each setting.
Title
A meaningful title that accurately describes what your kahoot is about will help other users find it in search results and understand if it's relevant. A title can be up to 95 characters.
Description
It is easier for other users to find your kahoot in Discover page by its description than by its questions. You can also add a # in front of words to highlight them as closely related to your kahoot (for example, "A #trivia quiz about #popular #music"). Descriptions can be up to 280 characters.
Cover image
Adding a cover image is a great opportunity to give more context to your kahoot. Kahoots with cover images are also boosted slightly by our search algorithm, making them more likely to be found by others than kahoots without a cover image. You can upload an image from your computer or from our image library. Images need to be:
PNG, JPEG, or GIF format, in RGB color mode

No larger than 5MB or 3264x3264 pixels
Save to
If you are an owner, admin, or member of a team space (subscription required), you can choose which personal or team folder the kahoot is saved in. You can also move a kahoot by changing where it's saved to. Kahoots will have different visibility options based on if they're saved somewhere in your personal "My Kahoots" list or your team space.
Visibility
If the kahoot is saved in My Kahoots folder on the Kahoots page, you can make it visible to everyone, only you or make it unlisted.
Kahoots saved in your team space only have the "team only" visibility option.
Everyone

: your kahoot will appear in search results on the

Discover

page. Services like Facebook, Twitter, and Slack will preview your kahoot's title, description, and cover image when you

post a share link

.

Only you

: your kahoot will not appear in search results on the

Discover

page.

Team only

: your kahoot will only appear in your team space, and only team members have access to it

(available with subscriptions that offer a team space).
Unlisted

: it means that kahoot is not publicly searchable in our "Discover" section but everyone with a link to the kahoot can access and host it

(available with select subscriptions).
Lobby video
Paste a YouTube video URL (https://www.youtube.com/watch?v=ig4_PhHmE2Y) into this field and the video will play full screen in the background while players join your game. This can be just a bit of music, some comedic relief, or an instructional video that provides answers to questions they'll see. When a video is added to the lobby the Kahoot! Theme music is automatically disabled.