To create a new kahoot, duplicate a kahoot, or combine kahoots, get started by logging in to your account at kahoot.com. For guidance on creating kahoots with our mobile app, read this article instead.
Looking for jumble, survey, discussion kahoot types?
Create a new kahoot
To create a kahoot from scratch, click the "create" button in the top navigation bar.

This will open the kahoot creator where you can adjust kahoot settings and add questions.
Duplicate a kahoot
Need to make a kahoot similar to one that already exists? Instead of creating from scratch, make a copy to save time!
Please note: Public kahoots made by our various "K! Studio" profiles cannot be duplicated unless you have a Premium subscription.
Click "Duplicate" in the three-dot menu ( ⋮ ) to make a copy.
Duplicates are created under "My Kahoots" on

the Kahoots page

.

Team kahoots will be listed in your "Team space".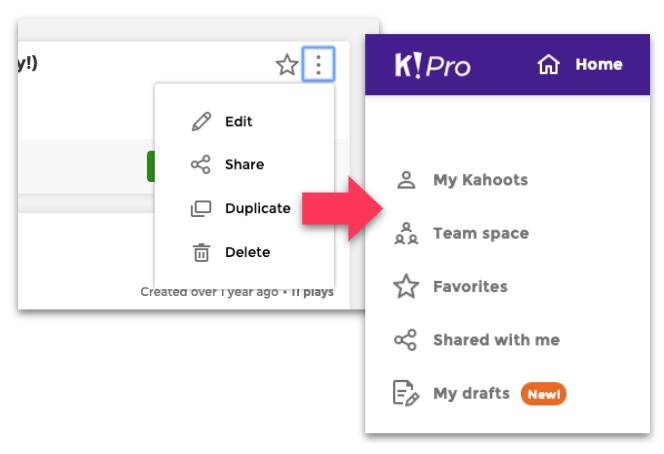 Combine kahoots
Need to merge some of your existing kahoots together? Combine two or more kahoots for one big game and save lots of time!
Click "Kahoots" in the top navigation bar.

Select the kahoots and click "Combine".

Change the title and description if needed, then click "Create".

The new kahoot will be in the same list or folder as the kahoots you combined.

If you want to continue editing the kahoot, click "Edit" in the three-dot menu ( ⋮ ).