Ask for help
Contact us. We're happy to investigate why your kahoot was flagged and help get it out of moderation.
When you contact us, please select General from the Inquiry category and then Flagged/quarantined kahoot for What is your inquiry about?.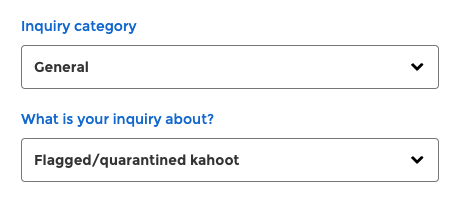 Please include your username and the title of your kahoot in the description of your request.
If your kahoot was flagged or quarantined in error
If you do not want to change anything
If you want to continue using and sharing your kahoot as it is, change your kahoot's visibility to "private" to immediately release your game from moderation.
If you've updated your kahoot
If you believe your kahoot now aligns with our Acceptable Use Policy, simply ask us to re-review your kahoot.
Frequently asked questions
How does content get flagged?
Only public content is subject to moderation. We have three moderation methods in action:
AI

scans for words or phrases often used inappropriately

Moderators

search for inappropriate content

Kahoot!'ers like yourself

can

flag

inappropriate content
What is and is not allowed in a kahoot?
Generally, we're happy to allow content that has clear academic value, does not contain personal information and strives for objectivity. Our Acceptable Use Policy outlines that it's the responsibility of every user to ensure their content is not:
Illegal, threatening, defamatory, abusive, harassing, degrading, intimidating, fraudulent, deceptive, invasive, racist, or contains any type of suggestive, inappropriate, or explicit language which;
Infringes on any trademark, patent, trade secret, copyright, or other proprietary rights;
Contains any type of unauthorized or unsolicited advertising;
Impersonates any person or entity, including any Kahoot! AS employees or representatives.
What do the different moderation statuses mean?
Once flagged, our moderation team will review your kahoot (usually within 24 hours) to determine if it should be quarantined or approved.
Flagged

: You can edit, delete, and play your kahoot. It's accessible to everyone who has a direct link to it, though it can't be found through the Discover page. You will receive in-platform notices about this.

Quarantined

: You can only edit or delete your kahoot. It's not accessible to anyone but you. You will receive an email as well as in-platform notices about this.

Approved

: You can edit, delete, play and share your kahoot like normal. It cannot be flagged until after you've edited it.